At the top of my Dream Destinations list since I first saw Sofia Coppola's 2006 film Marie Antoinette, I absolutely loved wandering through the Palace of Versailles. The French government allowed Coppola to film on location and I hoped one day to visit not just the Palace, but more importantly (for me) the grounds, and the Queen's Hamlet.
An all-day adventure, I am so thankful for the opportunity to visit Versailles last summer. It was super-busy inside, but we spent a majority of our time wandering the grounds rather than touring the buildings. This isn't the best plan for everyone, but I'm glad this was the route we chose.
A beautiful day spent away from the city, definitely visit the Palace of Versailles if you find yourself in Paris.
Get ready for a little French history, too many pictures, a vehement defense of Coppola's film, and a discussion on the politics and sexist treatment of Marie Antoinette.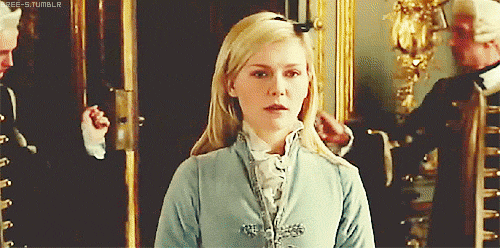 Where are we?
With only a long weekend in Paris, we dedicated an entire day to the Palace of Versailles and the decision was absolutely worth it. We traveled from our apartment in Montmartre to Versailles–about an hour commute by metro–and even glimpsed a view of the Eiffel Tower as we switched train lines. Taking the metro was definitely the cheapest and preferred method of travel, even if the journey was a little longer than if we would have gone by car.
We also booked our tickets wayyyyy in advance, which I recommend as they sell out–especially in the summer–and as we purchased prior, were able to skip (the very long) entrance queue. For us, touring the Palace was nice, but so crowded that it made even the largest indoor spaces feel claustrophobic; I much preferred walking the grounds and seeing the gardens, Hamlet, and the Grand Trianon and Petit Trianon. Pro tips: You can spend all day here, so pack snacks, sunscreen, and have a travel plan! There's a lot to see and time can move quickly as you walk the grounds.
The Palace of Versailles:
The Palace of Versailles (Château de Versailles):
The Hamlet of Marie Antoinette (Hameau de la Reine):
The Grand Trianon and Petit Trianon:
A Defense of the film Marie Antoinette (2006) and the last Queen of France:
"With its commentaries on gender, women's agency, reproduction and female friendships, Marie Antoinette is surprisingly deeper and more feminist than many realize. Sofia Coppola created a lush and sumptuous indulgence for the eyes. More importantly, by humanizing the doomed queen and adding modern touches, Coppola reminds us of the gender constraints women throughout history and today continually endure."

Kearns, Megan. 2012. "In Defense of 'Marie Antoinette': Sofia Coppola's Re-Imagining Surprisingly Feminist." The Opinioness. Available here.
I first saw Sofia Coppola's Marie Antoinette in 2006 and immediately fell in love with the music, costumes, and story of France's last queen. The film was met with mixed reviews–including an entire booing of the movie by French critics when it debuted at Cannes–and people both loved and hated the 80s-inspired-occasionally-true-take on Marie's life.
Like many movies drenched in pink and/or including songs by Bow Wow Wow, but definitely most stories about the lives of teenage women, the film was largely written off as superficial and cliche. Critics of Marie Antoinette complained about the lack of substance in Coppola's film:
"The politics of Marie Antoinette have to be read through the costumes, through the fascination with the objects, because it's about a woman being turned into an object that is traded among this hierarchical, patriarchal society, and this very strange world she's thrown into. She's a child, and completely unequipped to deal with these things. I think Coppola's fascination with adolescence in transition moments obviously drew her to this story. But it was infuriating to see that all people could say about it was it was this frivolous, ridiculous, MTV/New Romantics-style music video that was modeled on Coppola's own life. It was pathetic! Is that the best you can do as a critical reading? It deserved more."

Aylmer, Olivia Lindsay. 2019. "Reevaluating the Gross Misunderstanding of Sofia Coppola's Cinematic Oeuvre." Dazed. Available here.
As flashy as the movie can be–and it is almost on that Baz Luhrmann Moulin Rouge level–the underlying complexity of the characters, their modern-ish costumes, and contemporary music allow viewers to connect more with the historically-adjacent story, rather than if the plot was purely historical.
"Marie Antoinette is the story of both a woman denied a voice—as evidenced by the fact Antoinette (played with a cheerful determination by Kirsten Dunst) doesn't have a substantial line until nearly 40 minutes into the film—and those okay with maintaining the status quo. (See: Louis XVI, played with perfect distraction by Jason Schwartzman, who rather played with keys than be bothered to engage with his wife.)

'This is ridiculous,' Antoinette tells her attendees during a protracted morning dressing ceremony that requires the highest-ranking royal in the room to help her dress. 'This, madam, is Versailles,' she's informed.

Even when an angry mob forces her family to flee Versailles (they would be become the figureheads for France's debut and social problems and were eventually executed in 1793), Coppola shows Antoinette as woman who has earned her place in the royal hierarchy, but is still not understood or fully valued."

Studarus, Laura. 2018. "Sofia Coppola's Marie Antoinette is a Tragic Feminist Hero." CR Fashion Book. Available here.
For me, the simple dialogue portrays the struggle of a person as conflicting and controversial as Marie Antoinette. On one hand, she is the privileged queen of France, with more wealth and perceived freedom than any other woman in the country. However, she is also held to the same stifling standard as other Frenchwomen of the time, albeit with the most publicity. Her purpose is to have children and society requires her to be passive with a reliance on men, as well as an expectation of dependence and maintaining the status quo of this role she often resented.
"As feminist historians have been persuasively insisting for years now, the queen met with this fate because she was a foreign woman who repeatedly overstepped the boundaries circumscribing French royal—and feminine—behavior."

Weber, Caroline. 2006. "I Don't Want Candy: The Uses and Abuses of Marie Antoinette. The George Washington University: Columbian College of Arts & Sciences. Available here.
Here's the thing: Marie Antoinette's story can be seen as just another poor-little-rich-girl tragedy, but honestly should we feel sorry for a queen that seemingly ignored the famine and injustice that gave rise to the unrest ultimately ending with her execution?
Yes and no.
Like most women during this time, Marie was valued for her body and what her body could produce: an heir to the throne. She was publicly blamed for the seven years it took to consummate her marriage, while her husband, Louis XVI–more concerned with hunting and making keys–largely escaped accountability for the couple's failure to have sex. Under pressure from her family and the court to adhere to the standards of the day, Marie mostly conformed to the ridiculous expectations set for her as Queen: accept the status quo, look pretty, and have children. She also pushed those same boundaries, ultimately leading to further vilification by the press.
While her cage was gilded and her life privileged, Marie Antoinette suffered the same restrictions as other women during her time. Sexism in pre-revolution France was as much a part of society as most places across the world. Seen as "passive citizens" women could not vote, hold political office, and were dependent on men to make decisions "in their best interests"; their roles were focused squarely in the home and banned from the political sphere. Even greater pressure was put on the Queen–who was already deemed untrustworthy because she wasn't French–to uphold that expectation.
"'She was a girl surrounded by grown-ups who wanted things from her and judged her, and she didn't exactly know what people expected from her,' Ms. Dunst said during a lunch break, in sweats and her pink-cheeked Marie Antoinette makeup and giant hair. 'I could relate to that kind of loneliness.'"

Hohenadel, Kristin. 2006. "French Royalty as Seen by Hollywood Royalty." The New York Times. Available here.
The film is largely apolitical–meant more as a look into the life of a queen at Versailles–but Coppola does use the minimal discussions on politics to her advantage. Louis XVI casually continues to provide funds to the Americans for their revolution as a way to stick it to the British but at the expense of his own treasury and citizens. France continued to hemorrhage funds to support the American Revolution–raising taxes on the poor as the church and nobility were exempt from these increases–and Marie's perceived extravagant spending was seen as the cause of starvation in the country. As the French Revolution loomed, blame was largely (and unfairly) placed on Marie as the source for a majority of the country's problems: debt, famine, and the privileges enjoyed by the elite at the expense of the poorer classes.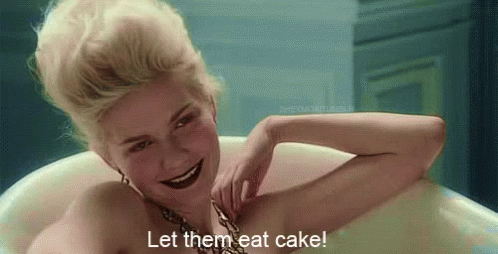 Newspapers published false stories of the Queen's affairs with her closest friends and attributed her "deviant" behavior as stemming from her German background. During the Women's March of 7,000 people to Versailles, many of the protesters discussed bringing the King to his rightful home in Paris, while calling for the execution of the Queen.
"When money is tight, they don't stop spending. And yet Marie Antoinette is the 'Queen of Debt.' It's easier to blame the woman you've told to be dripping in diamonds for dripping in diamonds when the coffers are dry…

Marie Antoinette becomes what she was always going to become: a spoiled rich woman with no sense of how the world worked outside her palace."

Saxena, Jaya. 2018. "Does Marie Antoinette Hold Up?" GQ. Available here.
Following her capture and trial, Marie Antoinette was pronounced guilty of depleting the treasury and treasonous behavior of working with the enemy. The charges of engaging in orgies at the palace were dropped. Polite to the very end, her last words were to the executioner: "Pardon me, sir, I did not do it on purpose," as she accidentally stepped on his shoe.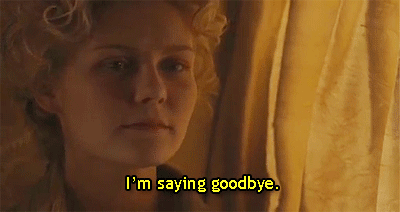 Marie Antoinette is a conflicting figure. While she saw charity work as vital, she overlooked and was ignorant to the oppression of her people. Like every other royal of the time, Marie Antoinette was extravagant, privileged, and wealthy. She did not want to lose her position or yield to the demands of the revolution. But she was also cast as a villain: she refused to tolerate many of the traditions of the royal family in France, was seen as a foreign spy by the citizens of her country, and displayed her own independence through fashion, building her own space in Versailles, and taking on a bigger role in government, much to the disdain of both the court and citizens of France. She was a child bride used as a pawn for peace among bitter rivals and was unfairly demonized for stepping outside of society's predetermined role of mother and wife by continuously speaking up to various councils as her husband failed to act.
"The whole point of the French Revolution was that no one in Versailles knew what the hell was going on outside of Versailles. It's not just a story about a beautiful queen, but the way we trap women with our expectations, and punish them when they live up to them.

I'm no Marie Antoinette apologist. We should still eat the rich."

"Saxena, Jaya. 2018. "Does Marie Antoinette Hold Up?" GQ. Available here.
Obviously Marie Antoinette had many shortcomings; we shouldn't forget the level of entitlement possessed by the Queen of France. However, like many women in positions of power even today, she was unfairly demonized by those who saw an independent woman operating outside of society's predetermined role and expectations of her as a threat. Feminism, particularly white feminism, fails to address the intersectionality of race, class, and ability. I do not mean to over-represent the struggle of a rich, white woman as the face of feminism here, but merely to show how history–as defined by patriarchal powers–unfairly represents women during their time and the impact of that narrative today.
It should also be noted that the French Revolution failed to implement any policies that protected women's rights; equality was denied by the ruling party–the Jacobin Club–that rejected social reform for women in large part due to the perceived meddling of Marie Antoinette in political affairs. Male supremacy continued and was further perpetrated by the Napoleonic Code.
At the same time, the newly independent United States of America was codifying sexism and racism in the Constitution.
○○○
Currently:
Listening: Floodlines (The Atlantic)
Reading: Sun and Rain (Ana Ros)
Watching: Mrs. America (Hulu)