For a background on the largest sexual abuse case in the history of the United States, please read Part 1, Part 2, and Part 3.
Yes, this is the largest case of sexual abuse in the history of the United States. The now 140 athletes that have filed lawsuits against Nassar is nearly as many survivors as "the Jerry Sandusky, Bill Cosby, and Harvey Weinstein scandals combined." Today, January 16th, Larry Nassar faces not only his sentencing, but also the victim statements from the survivors of his abuse; The Michigan Attorney General had to set aside several days for the expected 88 individuals to share their stories. Because of Nassar's plea agreement, if found guilty, he can receive anywhere from 25 to 40 years to life in prison. This sentence is added to the already 60 years he was given for possession, and filming of, child pornography.
The cases against Nassar, USAG, and MSU have quickly developed further over the past week. Let's get up to speed.
"I want everyone to know that he did not do this to Athlete A, he did it to Maggie Nichols."
As noted in previous posts, the first complaint made about Nassar to USAG was filed in 2015 by an unnamed coach who overheard athletes discussing his "treatments" at the National Training Center (Karolyi Ranch) in Texas. The coach spoke with Senior Vice President of the Women's Program, Rhonda Faehn, who then reported to the head of USAG at the time, Steve Penny. This week, World Champion and now NCAA National Champion Maggie Nichols came forward as the person referred to as "Athlete A" in the case; the gymnast that sparked the investigation into Larry Nassar. In her statement she notes:
Recently, three of my friends and former National Team members who medaled at the 2012 Olympics have bravely stepped forward to proclaim they were sexually assaulted by USA Gymnastics Team Physician Dr. Larry Nassar.
Today I join them. I am making the decision to tell my traumatic story and hope to join the forces with my friends and teammates to bring about true change. Up until now, I was identified as Athlete A by USA gymnastics, the US Olympic Committee and Michigan State University. I want everyone to know that he did not do this to Athlete A, he did it to Maggie Nichols. In the summer of 2015, my coach and I reported this abuse to USA Gymnastics
leadership… Dr. Larry Nassar was regarded throughout the sport as the very best by coaches and staff throughout the gymnastics community. He was a doctor at Michigan State
University and the Olympic and Team USA doctor assigned to us by USA Gymnastics at the Olympic Training Center at the Karolyi Ranch. He was supposed to care for us and treat our injuries. The first time I met Dr. Nassar I was about 13 or 14 years old and receiving treatment for an elbow injury. At the time it seemed like he knew exactly what therapy was necessary for me to recover. Initially, he did nothing unusual. But when I was 15 I started to have back problems while at a National Team Camp at the Karolyi Ranch. This is when the changes in his medical treatments occurred. My back was really hurting me, I couldn't even really bend down, and I remember he took me into the training room, closed the door and closed the blinds. At the time I thought this was kind of weird but figured it must be okay. I thought he probably didn't want to distract the other girls and I trusted him. I trusted what he was doing at first, but then he started touching me in places I really didn't think he should. He didn't have gloves on and he didn't tell me what he was doing. There was no one else in the room and I accepted what he was doing because I was told by adults that he was the best doctor and he could help relieve my pain.
He did this "treatment" on me, on numerous occasions. Not only was Larry Nassar my doctor, I thought he was my friend. He contacted me on Facebook complimenting me and telling me how beautiful I looked on numerous occasions. But I was only 15 and I just thought he was trying to be nice to me. Now I
believe this was part of the grooming process I recently learned about.
One day at practice, I was talking to my teammate, and brought up Dr. Nassar and his treatments. When I was talking to her, my coach overheard. I had never told my coach about these treatments. After hearing our conversation she asked me more
questions about it and said it doesn't seem right. I showed her the Facebook messages and told her about what Nassar was doing. My coach thought it was wrong, so she did the right thing and reported this abuse to the USA Gymnastics staff.
USA Gymnastics and the USOC did not provide a safe environment for me and my teammates to train. We were subjected to Dr. Nassar at every National Team Camp which occurred monthly at the Karolyi Ranch. His job was to care for our health and treat our injuries. Instead, he violated our innocence. I later found out that Michigan State University had ignored complaints against Larry Nassar from other girls going back 20 years and had investigated him for sexual assault in 2014. They never told USA Gymnastics. If they had, I might never have met Larry Nassar and I would never have been abused by him.
A few things that are important to remember and have been consistent with each survivor coming forward:
The abuse started when she was underage and at USAG sponsored events (competitions, traveling, required training camps)
Nassar groomed her by giving her compliments and providing comfort during stressful times (training camps).
She was told that Nassar was "the best" and that the girls were lucky to be seen by him.
While USA Gymnastics was notified of the abuse in the summer of 2015, the organization took five weeks to report Nassar to law enforcement and also failed to notify Michigan State University, where Nassar was working after being quietly "let go" from his position with USAG. Similarly, MSU did not speak to USAG when, in 2014, an athlete came forward about Nassar's treatments; her story did not constitute as a policy violation.
After filing the complaint, CEO Penny called Nichols's parents Gina and John to "discourage [them] from reporting Nassar's conduct to law enforcement and pressured them to keep the matter quiet." Gina told Sports Illustrated:
"I got a phone call probably the next day [from] Steve Penny," Gina told SI. "He called me, I don't know how many times, to talk to me about it and make sure that I understood they were taking care of it. When I have the president of USA Gymnastics telling me what to do, he's in a position of power over me. We've given our whole family up to get our daughter to this point and [when] I have Steve Penny telling me this is what we're going to do, we're going to be quiet, I'm going to listen to him. I'm not going to jeopardize my daughter's chance of going to the Olympics."
Maggie's mother was interviewed by CBS News and details the extent of the control USAG had over the athletes: "He was allowed as an adult man in his mid-forties or fifties to do whatever he wanted to as a physician with no supervision, we never gave parental consent….Nobody was ever in the room. He was allowed to do whatever he wanted to with his bare hands. We couldn't even stay in the same hotels with her when she competed for our country all over the world, but then they allowed a molester to do whatever he wanted to our daughter as a minor. But we were supposed to trust USA Gymnastics. It's not OK… Where are the other adults that were at the Olympic training center, allowing this to go on."
After Maggie's statement, USAG responded with the following:
USA Gymnastics admires Maggie Nichols' bravery and encourages our athletes and others, like Maggie, to share their personal experiences with abuse. We are sorry that any athlete has been harmed during her or his gymnastics career. USA Gymnastics is focused every day on creating a culture of empowerment that encourages our athletes to speak up about abuse and other difficult topics….

Contrary to reported accusations, USA Gymnastics never attempted to hide Nassar's misconduct. The suggestion by plaintiff's counsel John Manly, who indicates that he is representing Maggie, that USA Gymnastics tried to silence athletes or keep the investigation secret to avoid headlines before the Rio Olympics and to protect Los Angeles' Olympic bid is entirely baseless. USA Gymnastics kept the matter confidential because of the FBI's directive not to interfere with the investigation.

USA Gymnastics reported Nassar to the FBI in July 2015 and to a different FBI office again in April 2016. When Maggie's comments were relayed by her coach to the organization, USA Gymnastics immediately contacted her parents and hired an experienced, independent investigator to speak with her and others at a mutually agreed date and time. The information that Maggie and later a second athlete provided was important, but did not provide reasonable suspicion that sexual abuse had occurred…
USAG stated that they hired "an experienced, independent investigator to speak to her and others." This investigator, Fran Sepler, stated that she was in fact "not hired as an investigator, I was only hired to conduct several interviews by USA Gymnastics who indicated they were conducting an investigation into allegations and needed someone who was a skilled interviewer." Maggie's dad, John, states, "When the Fran Sepler interview was arranged, I was under the impression that this was the FBI investigator. We were never told who she was, what her position was, and so we thought it was part of the FBI investigation." Sepler is also the person who interviewed Aly Raisman on behalf of USAG.
Following the pressure to keep quiet, Maggie and her family were not contacted until a year after she first filed her complaint, days prior to the 2016 Olympic Trials. During this time, Nassar was still practicing both at Michigan State University and the Twistars Gym Club in Michigan.
The day following the USAG press release regarding Maggie, Aly Raisman responded Twitter: "STOP VICTIM SHAMING. Your statements are hurtful. If you did not believe that I & others were abused than why pressure & manipulate us? WE WERE MOLESTED BY A MONSTER U ENABLED 2 THRIVE FOR DECADES. You are 100% responsible. It was mandatory to get "treatment" by Nassar."
Twistars and Michigan State University are "Immune to Liability"
This week Michigan State University and Twistars filed motions to dismiss because they believe they were not liable to protect athletes from abuse. In 2014, a complaint was brought against Nassar by a MSU student; while the complaint against Nassar was dismissed, the university did implement several protocols that Nassar was found to have abused in 2016, leading to his termination at the university.
Dr. Jeffery Kovan (former head of MSU sports-medicine clinic), Dr. William Strampel (former dean of the MSU College of Osteopathic Medicine) and Kathie Klages (former MSU gymnastics coach) are the three former MSU employees listed as co-defendents in the lawsuits. MSU believes Kovan and Stampel, formerly in charge of Nassar, should be excluded from the lawsuit as they filed the graduate student's complaint with police (law enforcement later cleared Nassar of the charges). The complaint, filed with police and Title IX stated: (explicit language below)
The woman alleged Nassar massaged the woman's breast, even after she said it was not helping with her hip pain, she alleges in her lawsuit. He then massaged her vaginal area under her underwear, even after the woman told him to stop, the lawsuit says. The woman had to physically remove Nassar's hands from her body, the lawsuit said, and she noticed Nassar had an erection.

Nassar was suspended for three months after the 2014 complaint were filed. He was allowed to return to work after he was cleared by the Title IX investigator.

However, the plaintiffs' lawyers point out that Nassar was allowed to see patients while still under investigation by MSU police and that Michigan State never notified USA Gymnastics of the 2014 allegation involving Nassar.
While Klages received complaints about Nassar from multiple athletes over the years, because she was not Nassar's supervisor, MSU states that she too should be released from liability (Klages, it should be noted, required her athletes to write cards to Nassar when he was arrested; she was released from her position in 2017). In their motion to dismiss the university as a co-defendent, MSU attorneys stated: "With the benefit of hindsight, Plaintiffs contend that MSU should have known that Nassar was a predator or done more to prevent his criminal conduct. But that is not the standard by which Title IX liability is measured."
Head Coach John Geddert of the Michigan club Twistars also filed a motion to dismiss his liability regarding athletes abused by Nassar in his gym. Geddert was the Head Coach of the 2011 World Championship Team and 2012 Olympic Team; both teams have not only three known survivors of Nassar's abuse, but 2011 was also the competition in which Maroney details the assault where she was drugged and woke up with Nassar in a hotel room. His attorneys stated that "neither Geddert nor Twistars is required to report suspected child abuse, based on the state's Child Protection Law, which lists mandated reporters."
Geddert was listed as a co-defendant by a few of the first survivors to come forward to IndyStar in 2016. One survivor testified that Geddert walked in and made a joke when she was being "treated" by Nassar: (graphic statement below)
VICTIM G: "I remember, John, my coach walking in and that's kind of why I remember because I did feel uncomfortable that he was in there."

AG: "And then what happened?"

VICTIM G: "Mostly all I remember is him doing the treatment on me with his fingers in my vagina and massaging my back and with a towel over my butt and John walking in and making a joke that I guess my back really did hurt and then I was uncomfortable because John was in there during that."
Geddert also came under scrutiny when he hired former MSU coach Kathy Klages as a "fill-in" in his gym. After initially denying the report, Geddert admitted she did in fact worked a few days at Twistars.
These suits are similar to the one filed by USAG that also states the organization was not required to report instances of abuse.
Marcia Frederick "Forced" To Come Forward After Complaints are Ignored
Three days ago, the first ever World Champion for the United States came forward with not only her story of abuse at the hands of her coach, but how USAG ignored her complaints and allowed him to continue to train gymnasts. Marcia Frederick won the gold medal on uneven bars at the 1978 World Championships, marking the first time an American woman earned a world title in Artistic Gymnastics. Frederick was coached by Richard Carlson, a man she says abused her from the age of 16 (right after she won her gold medal) until her retirement from the sport at 18.
Frederick first told other coaches, the organization, and other adults about the abuse in 1980 but was ignored. She alleges that "Carlson had her engage in sex acts" for two years while she trained and competed for the United States. "Two years," she said, "For me seemed like 10 years." Her frustatrations with the failure of USA Gymnastics to continue allowing Carlson to coach even after her interview with the organization in 2011 forced her to go public this week.
In 2011, USAG interviewed Frederick regarding coach Don Peters, a National Team Coach accused by three teenagers of forcing them to have sex with him in the 1980s. In November of 2011, Peters was banned from the sport. He also coached Nassar survivor Jeannette Antolin before the ban. While Frederick denied that Peters had abused her, she told the organization that Carlson, who continued to coach gymnasts in 2015 and instructed at USAG-sanctioned clinics, had. USAG responded that the investigation only concerned Peters, not Carlson, and no further action against Frederick's coach was taken. Two days before Nassar left USAG in 2015, Frederick lodged a formal complaint against Carlson with USAG after her 2011 interview was largely ignored.
Carlson's attorney stated: "I guess he would deny any of her allegations dealing with impropriety," Colleluori said, "Rick just wants to live a nice, quiet life." Colleluori added that Carlson has considered suing Frederick for defamation but "he won't do it. He's too good of guy."
Simone Biles is Third Member of Final Five to Publicly Come Forward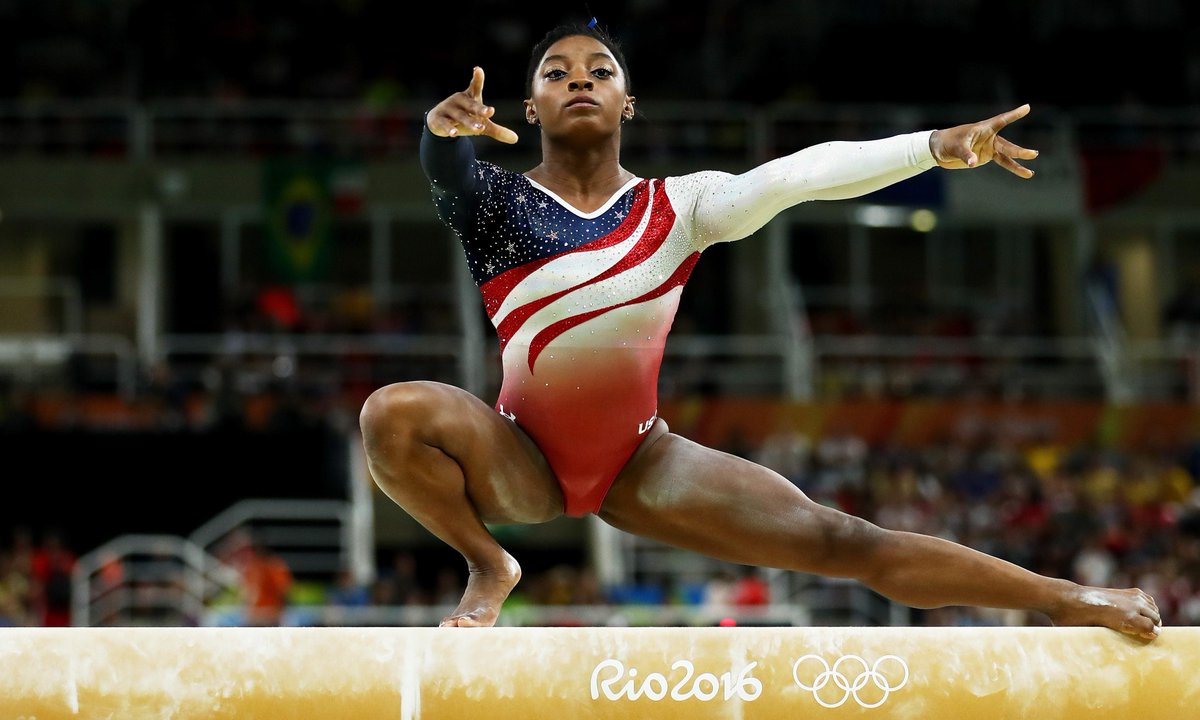 Yesterday, the most decorated American gymnast in the history of the sport joined her teammates in coming forward with allegations against Nassar. Her statement, released on Twitter, describes her abuse and struggles with publicly discussing surviving sexual abuse. Biles, who won four gold medals at the Rio 2016 Olympics and is arguably the greatest gymnast of all time, is also known for her outgoing personality and love for the sport:
Here is the response from USAG:
"USA Gymnastics is absolutely heartbroken, sorry and angry that Simone Biles or any of our athletes have been harmed by the horrific acts of Larry Nassar. We are our athletes' advocates. USA Gymnastics will continue to listen to our athletes and our members in our efforts of creating a culture of empowerment with a relentless focus on athlete safety every single day."
To which I have one reaction: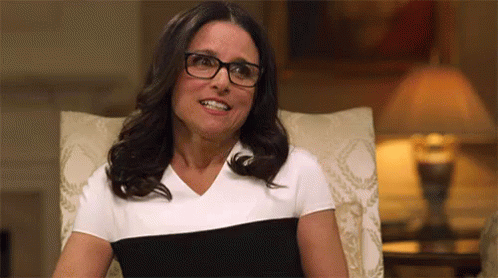 To Recap:
The Case Against USA Gymnastics:
While USAG may believe they held no liability for athlete safety and that they handled the sexual abuse allegations with accordance to the law, the point here is that they DO and they DIDN'T. This organization made its money off of the backs of the girls and women who won gold medals and the clubs and organizations that pay to be a part of the USAG organization. USAG created a culture of abuse, then turned its back on the athletes that sacrificed so much for their sport, protecting the molester that abused them instead. Here's a recap:
Gymnasts were not allowed to have their parents or guardians with them at the mandatory monthly training camps held at the National Training Center OR at domestic and international competitions. Cell phones were also limited at the National Training Center.
Nassar was allowed to tend to gymnasts in their hotel rooms and the rooms they occupied at the National Training Center.
When allegations against Nassar were filed, USAG insisted to the parents of Maggie Nichols not to report to police, that their silence was needed for a more thorough investigation; they finally reported the abuse to the FBI five weeks later.
The "investigator" (USAG's words) sent to interview Nichols and Raisman was not an investigator at all, but rather a person that specializes in sexual harassment and work disputes. When asked to speak to her a second time, Raisman was denied and also told to remain quiet, that the organization was handling the case.
USAG allowed Nassar to quietly leave the organization in 2015 and did not notify Michigan State University that he was under investigation for sexual abuse; Nassar continued to treat athletes at the university.
In 2016, USAG filed a settlement with 2012 Olympian McKayla Maroney for $1.25 million to remain silent on her abuse at the hands of Nassar.
In December, USAG files a motion to dismiss as they have "no legal duty to protect plaintiffs from Nassar's criminal intent".
Now What?
Nassar should be sentenced this week or next (depending on how long the 88 victim statements take to read) and will most likely serve the rest of his life in prison for both the abuse and child pornography charges. That small comfort–knowing that he can not hurt another person–I'm sure is at least a little justice for the more than 140 women that have come forward and the countless others that most likely have not shared their story.
While this case does not have the publicity that Weinstein or Penn State has received, the fact that so many high profile athletes have come forward–Maroney, Raisman, Douglas, and Biles–has propelled the allegations into a greater light. With the #metoo and #timesup campaigns gaining more traction, I believe women are feeling more comfortable with coming forward. There's strength in numbers.
On the other hand, these campaigns and the public statements from such high profile athletes has made others question the legitimacy of their claims, which I fear will grow as more people tell their stories of abuse. I want to take the remaining space to combat some of that.
My New Years Resolution was to stop reading online comments but this morning I couldn't help but take a peak. Simone Biles was truly THE gymnast of the 2016 games and most people know her (or of her) because of her endorsements and TV appearances. Finally, I thought, this abuse would reach even greater headlines (which is a shame because the popularity of the gymnast shouldn't result in more people knowing about Nassar, but that is the world we live in). Wow, was I wrong. I could screenshot some of these comments, respond to their words, but instead I am just going to answer the most popular and disgusting comments I saw today:
I don't want to hear about all the pervs out there. Give it a rest. Whether you like it or not, these "pervs" are out there and it is through these voices that we learn more about how perpetrators abuse their victims. Every 98 seconds an American is sexually assaulted. We DO need to talk about this. We DO need to teach every single person consent and signs of abuse. "Stranger Danger" is fine to teach, but you are more likely to be assaulted by someone you know. #metoo and #timesup might make people feel uncomfortable because there are a ton of stories now public. It can be overwhelming, I get that. But for many survivors of assault, these stories ring true. If it makes you uncomfortable, good. You're learning that a lot of instances are buried, un-reported, or simply not discussed. We shouldn't have to "give it a rest" when there is real work that needs to be done.
What happened, her endorsements dry up, need some cash now? Not that it matters, but Simone's net worth is close to $3 million. As athletes, Simone, Aly, and McKayla went pro prior to their respective Olympics and did make money off of their medals and endorsements. Maggie, Jamie Dantzscher, and Antolin, for example, remained amateur athletes; they didn't accept a dime and instead went on to compete in college on an athletic scholarship. Steve Penny, the CEO of USAG, was fired from the organization last year and given a $1 million severance package, nearly the same amount the organization gave to Maroney in an attempt to (illegally) keep her quiet. Because these women have come forward as survivors of assault does not mean they will even see a penny from the lawsuits. The organization however, made money from clubs, elite competitions, and endorsements, while simultaneously protecting a pedophile. Biles, for example, may not even be one of the survivors that are a part of the lawsuit; if she is, that shouldn't matter. The abuse still happened to her, as a child and against her will, at the hands of a pedophile.
I wonder about these claims. Having a very difficult time believing these women! A majority of victims of abuse are the ages of 12-17. 93% of these
cases are perpetrated by someone the survivor knows. Two out of three instances of assault go unreported for many reasons including fear of retaliation and not understanding if the act was actually assault. EDUCATE YOURSELF. It is not the obligation of survivors to come forward. These athletes were conditioned that Nassar was the best and they were lucky to be seen by him. I am sure the number of gymnasts coming forward has given the more recently public survivors the confidence that they have each other, unlike the MSU student or Marcia Frederick, whose independent stories of abuse were largely ignored. Former gymnast Kathy Johnson-Clark said: "If we don't at some point connect the dots to say, 'You know what, this goes so far back,' it's going to keep going on in the future."
On the other side, there has been a ton of support from fans and athletes. Thankfully, many of the survivors will have their day in court today, but a lot won't. Regardless of the sentencing, we need to look at the structures, factors, and mentalities that allowed Nassar to abuse so many people for so long. Changing the culture and institutions–this is by no means an isolated instance of abuse–is the real victory for us moving forward.
Special thank you and appreciation to Gymcastic for their unrelenting coverage of this story.
Currently:
Listening: Uncivil Season 1