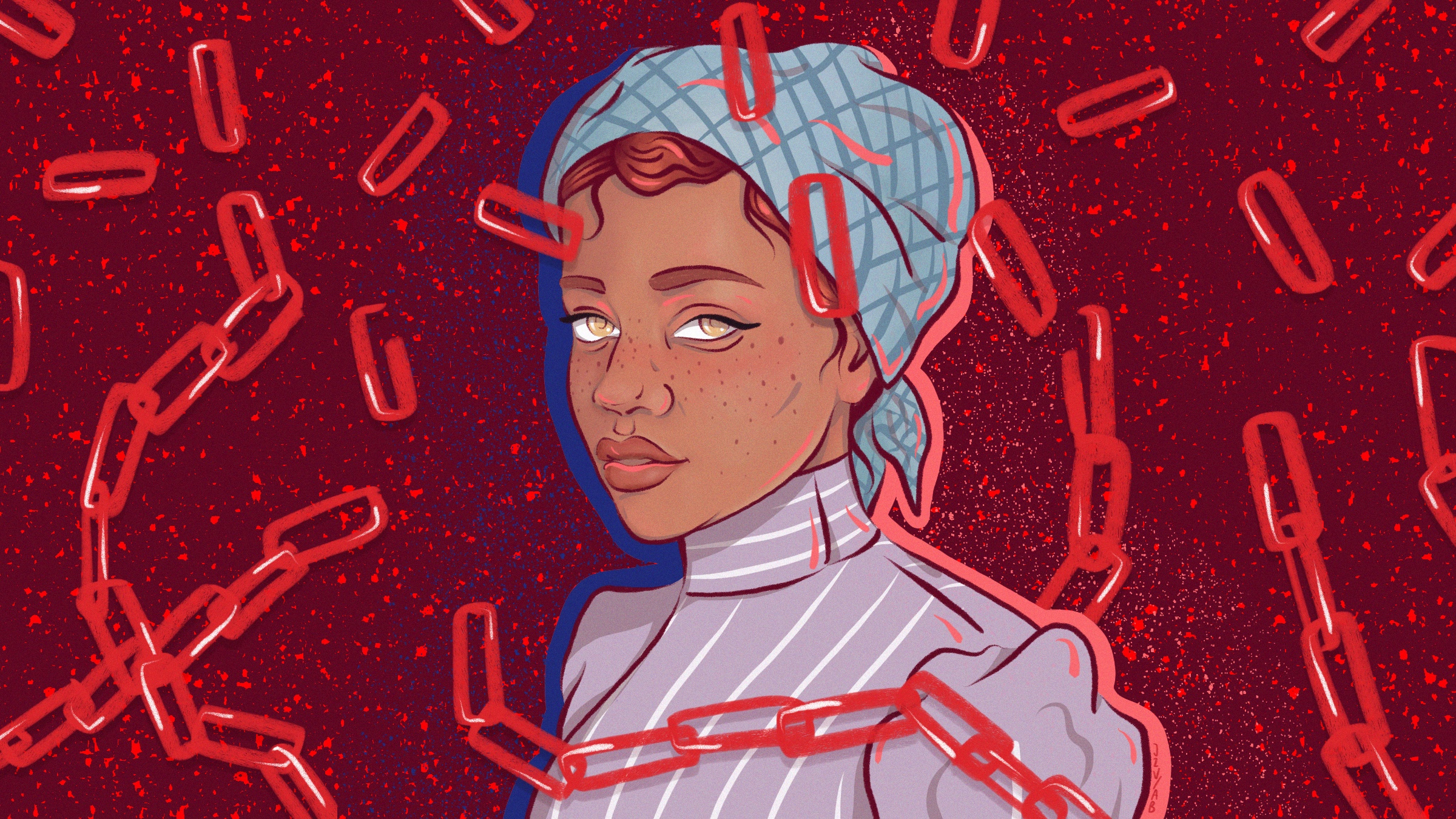 Oney "Ona" Judge is a name you should recognize but have probably never heard before. In the US we consistently misteach and mischaracterize the history of slavery in schools; sometimes the entire era is completely glossed over or "white-washed" to the point of erasing the struggles of those in bondage completely. Like all people, Oney's life and identity was intersectional–she was a woman, a woman of color, a mother, an enslaved person, and poor–all factors of her story not as often told. She defied one of the most important men in the United States for a freer life.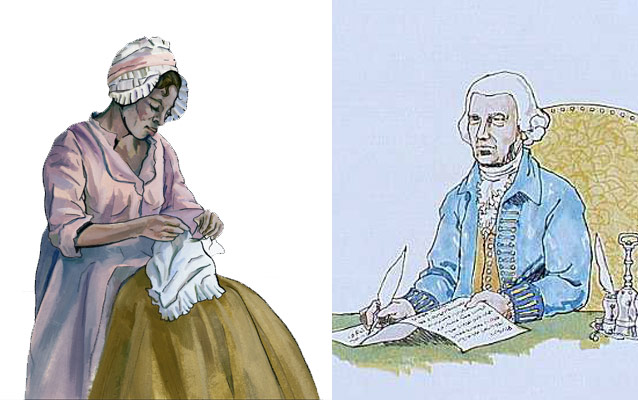 Oney was owned by the Washingtons. Yeah, those Washingtons. Coinciding with the absence of Black narratives in American history books, we've also failed to have conversations around what it means when many of the "founding fathers" owned human beings. Washington himself knew that slavery was wrong (he wrote in his will to free the people he enslaved after his wife's death) but still passed some of the harshest slavery laws while he was president.
But the focus of this story is Oney Judge. She escaped slavery and lived her life constantly fearing that she could be recaptured. Oney suffered crippling poverty and heartache, but for her, the struggle was worth it if it meant living a life with her own freedom. Author Erica Armstrong Dunbar states:
"We have famous fugitives, like Harriet Tubman and Frederick Douglass… but decades before them, Ona Judge did this."

Schuessler, Jennifer. "In Search of the Slave Who Defied George Washington."
I first learned about Oney last year on a November flight from Charleston to Cleveland. We had a crazy early flight (6am, no thank you) and as I scrolled through my podcast app for new episodes, I saw that I had an alert from Uncivil, the amazing Gimlet Media program hosted by Chenjari Kumanyika and Jack Hitt. "The Fugitive" is one of their last episodes of 2018 and if you haven't subscribed, you need to reassess what you are doing with your life.
Born around 1773 to a an enslaved woman and white indentured servant (father), Oney's entire existence was serving George Washington's wife, Martha. As a child she moved with the family from their Virginia plantation to their mansion in Mount Vernon, New York, and finally to the then-capital of the United States, Philadelphia, when George became the country's first president. Oney worked in the house and later interviews told the story of the harsh treatment she experienced while enslaved by the Washingtons. Her interviews helped rebuke the idea that enslaved folks outside of the fields lived an easier life.
Oney was one of only nine enslaved people chosen by Washington to move to the President's House in 1790. Philadelphia had its own set of laws regarding slavery, different from the rules set by New York and Virginia. The Gradual Abolition Act (1780) stated that enslaved people living in Philadelphia for longer than six months automatically became free. Washington, who claimed himself a resident of Virginia and not Pennsylvania, rotated his nine enslaved people every five months outside of state lines so they would remain his property. For Oney, this was her first time witnessing what life could be like for free Black Americans as Philadelphia had one of the largest populations of free, Black Americans during that time.
In 1793, George Washington helped pass one of the most important slave laws in the United States, the Fugitive Slave Law. This law:
"gave slaveholders the right and legal apparatus to recover escaped Africans and criminalize those who harbored them."

Kendi, Ibram X. Stamped from the Beginning: The Definitive History of Racist Ideas in America.
It also provided an enforcement arm to the constitutional slavery clause. This meant that now even "free" states were required to assist slave owners with the re-capture of their runaway enslaved property. While modern American policing can be traced back to the creation of the first "slave patrols" in the Carolinas roughly 80 years before the passing of the law (and northern colonies had many laws to control both free and enslaved Black American) , its important to note that the Fugitive Slave Act's impact on "policing"; this law allowed owners and their "agents" to essentially kidnap their human property — even in states that did not allow the institution — and return them them.
For Oney, the punishment of recapture was not as terrifying as returning to the south. In 1796, just three years after the passing of the Fugitive Slave Law, she discovered the Washingtons' plan to gift her to Eliza, Martha's granddaughter, as a wedding present. On May 21st, while the Washingtons were hosting a dinner party, Oney quietly left the President's House and walked toward the Delaware River. There, she took a boat operated by free Black people to Portsmouth, New Hampshire.
While it took five days to reach Portsmouth, it took even less time for George Washington to begin the hunt for his human property. Embarrassed that she may have left on her own accord, the Washingtons invented a story that the 20-year-old fell for a Frenchman, who tricked her into leaving the house; a plea to find "Oney Judge" with a $10 reward was published in the advertisement section of the Philadelphia Gazette just two days after her escape. Even in a "free" state, Oney still had extremely limited options as a runaway enslaved person. She lived an impoverished existence and maintained a low profile as she knew at any moment she could be forced to return to Philadelphia.
A friend of Martha Washington's granddaughter spotted Oney in Portsmouth and immediately informed her grandfather, still the president of the United States at the time. Washington contacted the Secretary of the Treasury, making the "federal government into his own personal slave-catchers" through the power of the Fugitive
Slave Law. John Whipple, a customs agent, was sent to New Hampshire to bring Oney back. Whipple's family recently freed their own enslaved people and he did not believe the story that Oney had been bewitched by a Frenchman into leaving Philadelphia. Whipple wrote Washington, asking for Oney's emancipation following Martha's death. George responded:
"that the request was 'totally inadmissible' and granting Judge any say in her fate would only 'reward unfaithfulness' and give ideas to others 'far more deserving of favor.' Washington also reminded Oney that her family still remained under his ownership."

Schuessler, Jennifer. "In Search of the Slave Who Defied George Washington."
While Oney lived in poverty and constant fear of being recaptured in Portsmouth, she did experience joy; she married Jack, a free Black sailor and gave birth to a child, Eliza. For Oney, her fear of losing her freedom intensified after her children were born:
"All the while, she was property because the inherited status of slavery followed the apron strings of women. So, Ona Judge passed the disease of slavery through her lineage to her children, making Ona and her children the property of Martha Washington."

McCarthy, Hannah. "Unsung: Ona Judge."
Even though Oney had escaped to a free state and her child born to a free father, she (and her future children) still remained the property of the Washingtons because of the Fugitive Slave Law. In 1799, Washington attempted to bring her back once more by sending his nephew to Portsmouth, but Oney disappeared with her children before he could recapture her.
Although George Washington passed away after this second attempt to bring Oney back to Philadelphia, she still was not free. Washington freed the enslaved population that he stole their freedom in his will, but on the condition that their freedom would only be granted following his wife's death. Even after Martha changed George's will to free the enslaved people before her own passing, this did not change Ona's situation:
"The grandchildren would inherit the claims to Ona's body. Because of the laws that George Washington helped to put in place Ona's bondage would just be passed down for the remainder of her life."

Kumanyika, Chenjari and Jack Hitt. "The Fugitive."
Living the rest of her 45 years in New Hampshire, Oney was in constant fear that she could be recaptured and her children enslaved. After the passing of her husband, she continued to live in extreme poverty, outliving all of her children before her death in 1848. Following the lineage up to the emancipation of enslaved Black people in the United States, Oney's last owner was Martha Washington's grandson's daughter, who married Robert E. Lee.
While living a fearful and impoverished life, Judge died at age 74 knowing that she had defied one of the most important men in American history for a freer life. Author Erica Armstrong Dunbar states:
"She lived as a fugitive for the entirety of her life. But she lived as a
free person, and that, to Ona was worth more than pretty dresses, nice shoes, stockings. It mattered not. She was able to live her life."

McCarthy, Hannah. "Unsung: Ona Judge."
The Fugitive Slave Law of 1793 made it legal for George Washington to pursue and recapture Oney even after she escaped to a free state. Two years after her death, the federal government passed an even stricter second law to protect the interests of slave owners: the Fugitive Slave Law of 1850. Oney Judge's story should be remembered as a fight for freedom at all costs. In interviews with The Liberator (1847) and The Granite Freeman (1845), Oney was asked if she regretted escaping slavery when she suffered so much in New Hampshire. She responded:
"No, I am free, and have, I trust been made a child of God by the means."

— Oney Judge
In 2008, Philadelphia began celebrating Oney Judge Day at the President's House. Thankfully, her story is becoming more well known and celebrated.
Sources:
Glass, Andrew. 2014. "Congress Enacts First Fugitive Slave Law." Politico. Available here.
Kendi, Ibram X. 2016. Stamped from the Beginning: The Definitive History of Racist Ideas in America. New York, Nation Books.
Kumanyika, Chenjari and Jack Hitt. 2018. "The Fugitive." Uncivil, Season 1, Episode 13, Gimlit Media. Available here.
McCarthy, Hannah. 2019. "Unsung: Ona Judge." New Hampshire Public Radio. Available here.
Mires, Charlene. 2012. "Invisible House, Invisible Slavery: Struggles of Public History at Independence National Historical Park." Culture and Belonging in Divided Societies: Contestation and Symbolic Landscapes, edited by Marc Howard Ross, University of Pennsylvania. 216-237.
Schuessler, Jennifer. 2017. "In Search of the Slave Who Defied George Washington." The New York Times. Available here.
Currently:
Reading: Heavy: An American Memoir (Kiese Laymon)
Watching: The Kroll Show (Comedy Central)