Queens You Should Know, in this case, let's celebrate the many great American gymnasts of African descent; these women have done so much for their country, teams, and sport. For this year's Black History Month I wanted to highlight contributions made by African American women to gymnastics in the US.
Black gymnasts often suffer from discrimination and racism from coaches, judges, competitors, and viewers. Historically underrepresented in the sport, Black gymnasts have fought for their place on American teams, with Dominique Dawes and Betty Okino becoming the first African American women to win an Olympic medal in gymnastics when the team placed third at the 1992 Barcelona Games.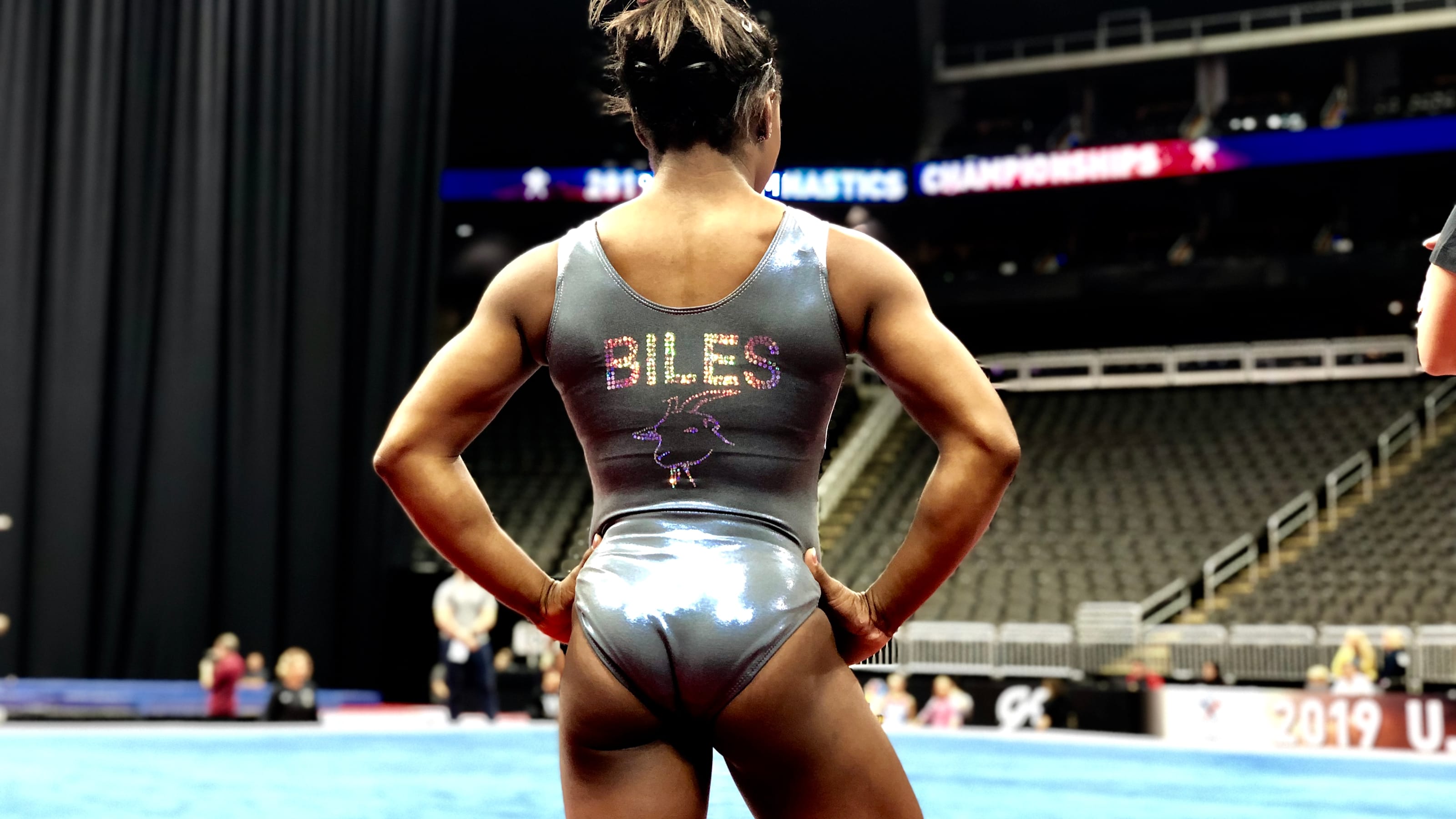 The sport is now dominated by Simone Biles, who has revolutionized gymnastics due to her mastery of seemingly-impossible skills and impeccable form. With more medals than any other gymnast in history, Simone is the Greatest Of All Time. Off the mat, she has used her position to fight for survivors of sexual abuse. Many of the athletes in this post came out as survivors of The Guy I Won't Name Here; they won despite an immense amount of abuse at the hands of a predator, coaches that enabled him, and an organization that valued medals over their well-being.
While I profiled many gymnasts here, I of course can't cover all of the greats in one post. I've highlighted a number of elite and NCAA athletes who made history in the sport with milestone wins, as well as a couple of my favorites that set the bar with their creative skills and innovative choreography.
There are also so many wonderful athletes currently competing at the elite level and in the NCAA; I definitely encourage anyone remotely interested in the sport to get into NCAA (SO MUCH FUN) and follow elite this year during the lead-up to the Tokyo Games.
A note before we get into this celebration for those that may be unfamiliar with the sport:
Elite is the highest level of competition in gymnastics. Think Olympic and World Championship skills and composition. In the United States, the elite level is divided by age–juniors are below the age of 16 and seniors are older than 16 in the competition year.
Level 10 is one step below elite. These athletes still adhere to the "perfect 10" scoring guidelines. NCAA athletes also use this Code of Points.
Most (99%) athletes compete elite and then NCAA if they retain their status as a an amateur athlete. For gymnasts like Simone Biles or Gabby Douglas, who went professional (earned money through endorsements, etc), they are unable to compete in the NCAA (I think this is extremely unfair but this is another rant for a different post). Some athletes choose to return to elite following the end of their NCAA careers, but this is rare. Equally rare is to compete in both the NCAA and elite simultaneously; this means athletes have to learn routines to two different Code of Points standards while adhering to the very strict NCAA limited training hours.
Other questions? Leave a comment and I'll try to answer!
Luci Collins:
Luci Collins is the first Black American gymnast to be named to an Olympic team (1980). Although the US boycotted the Moscow Games that year she still earned her spot, and along with Ron Galimore for the men's team, were the first Black American athletes on Olympic Teams for gymnastics. Born in Los Angeles to Creole parents, Luci was deemed "too light" to be considered African American and although her local community celebrated her success, the national coverage for her milestone was largely ignored due to her skin color.
See her floor routine at the 1980 National Championships:
"At the 1980 Olympic trials, there was a lot of attention on Ron (being the first black Olympian) but not a mention of me as African-American. I was devastated by the non-coverage because of the way it affected the little community (Inglewood) that strongly supported me…

Dominique and Betty and all who followed me have created a wave of cultural support in the African-American community and a wave of African-American youth to dare to dream of trying gymnastics."

Hersh, Philip. 2016. "Simone Biles and Gabby Douglas are just the Latest and Greatest Heroes in a Storied History of African-American Gymnasts." Available here.
Dianne Durham:
In 1983 Dianne Durham became the first African American gymnast to win the all-around title at the US National Championships. Later that year, Dianne beat future 1984 Olympic Champion Mary Lou Retton at the McDonalds International Gymnastics Championships. A knee injury would prevent her from competing at the World Championships that year, although her ultimate goal was to make the Olympic Team in 1984. Finally healthy, Dianne placed sixth on the first day of US Team Trials, but injured her ankle on the second day of the competition. Under the assumption that she could petition onto the team due to her past successes, she learned after the competition that she was ineligible due to the fact that did not compete at the World Championships the prior year; she did not know at the time that the only way to be considered for the Olympic Team was to finish the trials on an injured ankle. Dianne retired from the sport in 1985.
Here is Dianne on bars in 1983:
And on beam in 1984 before her ankle injury:
Sadly, Dianne passed away this month. But her contribution to the sport and the inspiration she gave to the generations of girls competing after her of course continues her legacy.
Betty Okino:
Born in Uganda, Betty moved to the United States and began the sport at the age of nine. Only four years later (!!!) she made her way to the highest level of competition (elite) and as a senior athlete, placed second in the all-around at the 1990 National Championships. Betty is the first Black woman of any nationality to win multiple individual medals in gymnastics, an accomplishment completed in 1991 (bronze on balance beam) and 1992 (balance beam silver). Despite a very serious spinal injury that kept her from competing at the National Championships and Trials, Betty (along with teammate Dominique Dawes) became the first African American gymnasts to win an Olympic medal when they helped the team place third (also the first US team medal in a fully attended Olympics) in 1992.
Betty is known for the incredibly difficult triple turning pirouette on balance beam, a skill that is rated at one of the highest difficulty levels (E) even today. Only a handful of athletes have ever successfully competed the Okino.
Here is Betty competing her famous skill for the first time:
Dominique Dawes:
Known as "Awesome Dawesome", Dominique Dawes is one of the greatest gymnasts to compete for the United States. Along with her historic medal with Betty Okino in 1992, Dominique is the first African American woman to win an individual Olympic medal in the sport, the first Black person of any nationality to win a gymnastics Olympic gold medal, as well as one of only three American gymnasts to compete in three Olympics, winning medals in each team competition. Dawes has a number of amazing performances including sweeping the all around and all four events at the National Championships in 1994–the first woman to do so since 1969–although she could never put together an error-free all-around competition at the World Championship level.
After placing second in the 1996 Olympic Team Final, Dominique had a legitimate chance to win the all-around title. Leading after two events, Dominique fell on floor, thus taking her out of the top ten; she later came back to win an individual bronze on the event, her first in a World or Olympic competition. In 2000, she returned to competition and earned a spot on the Olympic Team, where she helped the US win a bronze medal.
"I only take pride in knowing that I was blessed to have opened doors for other minorities to see the sport of gymnastics as an avenue for them to reach their full potential in sport and later in life."

— Dominique Dawes
Andreé Pickens:
Alternate to the 1995 World Championships, Andreé competed at the 1996 Olympic Trials, finishing 12th. After finishing her elite career, she competed for the University of Alabama, becoming one of the most decorated gymnasts in the history of the program. Andreé is a two-time NCAA Champion, 2002 SEC Female Athlete of the Year, and was the NCAA Regional Gymnast of the Year all four years she competed for Alabama.
Here she is competing a MASSIVE vault at the 2002 SEC Championships:
Tasha Schwikert:
A teammate of Dominique Dawes, Schwikert was a last minute addition to the 2000 Olympic Team. After being named as a second alternate weeks following Olympic Trials, Schwikert was substituted into the competition for an injured teammate (Morgan White), jumping the named alternate, Alyssa Beckerman. During the Sydney Olympics, Tasha competed exceptionally and delivered for her team, eventually earning a bronze medal. In 2020 Tasha's coach Cassie Rice noted that Tasha, then age 15, had competed on a torn hamstring after National Team Coordinator and child abuser Bela Karolyi pushed her down so violently into an split that the muscle completely ripped, an injury unknown to anyone outside of the training staff at the time
Here is Tasha on beam during the Team Final:
Tasha later became one of the leaders of the American squad between 2001-2003 when the team won two World Championships medals. In the leadup to the 2004 Olympics, Tasha unfortunately injured her ankle and was named an alternate to the team. Following her elite career, she won a number of NCAA titles for the UCLA Bruins including two individual all-around titles.
Known for her unique style, Tasha had one of the most fun elite floor routines ever:
Tasha later came forward to describe the racism and abuse she suffered at the National Training Camps at the Karolyi Ranch. At the time Bela Karolyi was given complete control of the team, their training, and who would ultimately compete for the United States in 2000:
"We were all sitting around after a practice and Bela stood up. A gymnast who was very, very thin at the time and said, 'I want all of you guys to look like her.' She had a thigh gap. I remember her standing there and you could like see through her, her thighs when she did gymnastics. She had very thin lines. They always thought my lines weren't as straight. And, you know, my gymnastics wasn't as pretty, because an upside down handstand should look like a straight line. Well, my line would be, there'd be a little curve where my butt is and there might be a little curve where my chest is. So, my straight line naturally is just very different from some of my white teammate's straight lines. And so I internalized that and I'm like, 'gosh, like, you know, I guess I'm just not good enough.' I wish I could go back in time and say, 'Hey, look, 15 year old Tasha, you are half African-American. You have different genetics. You will never have a thigh gap and that's okay.'

ESPN. 2020. "The Karolyi Way." Available here.
Ashley Miles:
Asley Miles burst onto the elite scene and earned a spot on the 2001 World Championship Team, where she won a team bronze medal. In 2003, she began competing for the University of Alabama, where she won the NCAA National Vault Title in 2003, 2004, and 2005. She was named the National Collegiate Gymnast of the Year in 2006; Ashley earned eleven perfect tens in her career and helped her team earn second place in the 2003 and 2005 National Championships.
Here she is just casually being perfect at the NCAA National Championships:
Ashley Postell:
A member of the National Team from 1997-2004, Ashley Postell was the first woman of African American descent to win a world title, earning the gold on balance beam at the 2002 World Championships.
Here is Ashley winning her title, only the second woman for the US to do so:
Known for her unique skills and gorgeous form, Ashley was also the first African American gymnast to compete for the University of Utah (2005). During her career she earned a record 20 All-American awards and finished in the top three of each year she competed at the NCAA Championships.
Annia Hatch:
Born in Cuba, Annia Hatch won her first Cuban National Championship at the age of 10 (!!) and would later win the title seven times over her career. She became the first Cuban gymnast to win a World Championship individual medal in 1996 and qualified for the Olympic Games in Atlanta, but lack of funding prevented her from competing. After retiring the following year, she married an American and moved to the United States, where she became a part owner of a gym and coach; in 2001, she earned her American citizenship and decided to start training as a gymnast once again.
Just a year later, Annia won the US Classic, beating Olympian and National Champion Tasha Schwikert; she was also one of the best vaulters in the world at the time. Although a US citizen, Annia was unable to compete internationally as Cuba refused to grant her permission as needed by Olympic regulations. In 2003, Annia earned a spot on the World Championship team, but tore her ACL before the start of the competition. Remarkably, she was able to recover from her injury, competed in all four events at the US Nationals in 2004, and was named to the Olympic Team. In Athens, AT AGE 26 (!!) Annia competed on only vault, and won a team silver and individual silver on the event; this was the first American Olympic medal on vault in twenty years (Mary Lou earned a silver in 1984, although that was not a fully attended Olympics).
Here is Annia's vault event final in 2004:
Kayla Williams:
In 2009, Kayla Williams was still a Level 10 athlete, one level below elite; later that year she later moved up to elite, winning the vault title at the National Championships and earning a spot on the World Championships team. There, she became the first American gymnast ever to win a World title on the event.
Here is Kayla's historic World Championship win:
Kayla retired from elite in 2010 and competed for the University of Alabama, where she helped the team earn their second consecutive National Championship in 2012.
Mattie Larson:
Born in 1992, Mattie began her senior career in 2008, placing seventh all-around at the National Championships qualifying for Olympic Trials, and later the team selection camp. Hindered by a a leg injury, Mattie didn't make the team and injuries kept her from competing for a spot at the 2009 World Championships. In 2010, Mattie placed second in the all-around and first on floor, earning a spot to the World Championship Team.
Mattie competed one of my favorite floor routines of all time at the 2010 National Championships:
Unfortunately, at the World Championships, Mattie fell in both the team qualification and finals. She was essentially shunned by the National Team staff and retired soon after the competition. She competed as a Bruin for two years before retiring from the sport completely. In 2018, Mattie read her victim impact statement, where she told her story of extreme mental, physical, and sexual abuse suffered as a member of the National Team. This statement helped lead to further investigation into the Karolyis, her coaches, and USA Gymnastics staff. You can watch her harrowing statement here.
Kytra Hunter:
As an elite athlete Kytra was known for her floor exercise and intense tumbling. In 2009 and 2010, she finished fourth all-around at the National Championships, but did not make either World Championship team. In 2011, Kytra began her reign at the University of Florida, where she became a TWENTY-FIVE time All-American and FOUR-TIME National Champion, including winning two all-around titles and national vault and floor gold medals.
Here is Kytra killin it on floor:
Kennedy Baker:
Kennedy Baker competed as an elite from 2009-2013 and finished eighth in the all-around at the 2012 Olympic Trials, although she was not named to the team. In 2015, Kennedy started her NCAA career with the University of Florida. Known for her power, including her amazing floor exercise, where she competed the incredibly difficult double Arabian in the piked position (double salto with a half twist in the first salto, legs straight); it is rare to see at the elite level, much less in the NCAA. Kennedy competes one of the best of all time.
Here is Kennedy earning a perfect ten on floor:
As a Florida Gator, Kennedy is an 11-time All American, three time SEC champion (all-around, vault, and floor) and was the 2015 SEC Freshman of the Year. Unfortunately, her career was cut short when she ruptured her Achilles tendon while competing floor against the University of Arkansas.
In 2020, Kennedy, along with fellow UF athlete Kytra Hunter, came forward with experiences of racism during her time as a Gator:
"During Baker's freshman season, she described an incident in a car when a teammate called her a racial epithet, with several other teammates also in the vehicle.

'I froze in complete disbelief,' she wrote. 'Did she really say that? I looked around the car, almost all upperclassmen, and no one said a word. They awkwardly laughed, and then we drove in radio silence after that. I immediately notified Rhonda after the incident occurred and she put together a 'meeting.' In this meeting, one of the first things that was said was, 'What is said in this meeting should not leave this meeting,' immediately silencing me, and my fellow teammate Kytra [Hunter].'"

2020. ESPN. "Ex-Florida Gymnast Kennedy Baker Details Alleged Racism in Social Media Post." ESPN. Available here.
She also shared her experiences at the gym Texas Dreams. Kennedy, along with former TD gymnast Ashton Kim, stated that their coach repeatedly made racist jokes toward their athletes. Kennedy detailed this horrifying incident with head coach Kim Zmeskal:
"My first championships of the USA was in Dallas Texas… I was sleeping, when Kim shook me awake and demanded that I start getting ready for the competition. She was so pissed, and just started going off, and I remember I was so confused and didn't understand what I did wrong. Then, she took me in the bathroom, and grabbed a pair of scissors. She told me that she thought my hair was too long for the meet, and she cut my braids, without my consent."

Baker, Kennedy. 2020. "An Open Letter to My Gymnastics Experience." Available here.
Alicia Boren:
Four time Junior Olympic Level 10 National Champion (2012, 2013, 2014, and 2015) Alicia Boren is one of the most successful gymnasts for the University of Florida. Known for her power, Alicia was the 2019 NCAA National Champion on floor exercise, earned two bronze medals with the team (2017 and 2018) and ended her career as an 18-time All-American.
Here is Alicia winning floor exercise in her final performance as a Florida Gator:
Elizabeth Price:
Elizabeth "Ebee" Price was a member of the elite Senior National Team from 2012-2014. In 2012, Ebee finished a surprise fourth place all-around at the Olympic Trials and was chosen as an alternate for the London Team.
Known for her power on vault and wonderful form on bars, Ebee won the 2014 American Cup before retiring from elite competition. She began her NCAA career at Stanford University in 2015 and was one of the most (if not THE most) successful gymnast in the history of the program. The National Champion on bars (2018) and vault (2015), she is also a 19-time All-American and the winner of the AAII Award (2018) for most outstanding female senior in the country.
Here is Ebee earning a perfect ten and winning bars in her final competition:
Gabby Douglas:
Gabby Douglas is the first African American gymnast to win the Olympic All-Around, a feat she accomplished in 2012. Also at the London Olympics, Gabby became the first U.S. gymnast ever to earn gold medals in the Team and All-Around.
Gabby finishing an incredible four event performance to win the All-Around in 2012:
During the London Games Gabby was criticized mostly for her hair as "unkempt" and "messy", even as her white team members had similar buns. Gabby later had to explain that the sport has ruined her natural hair.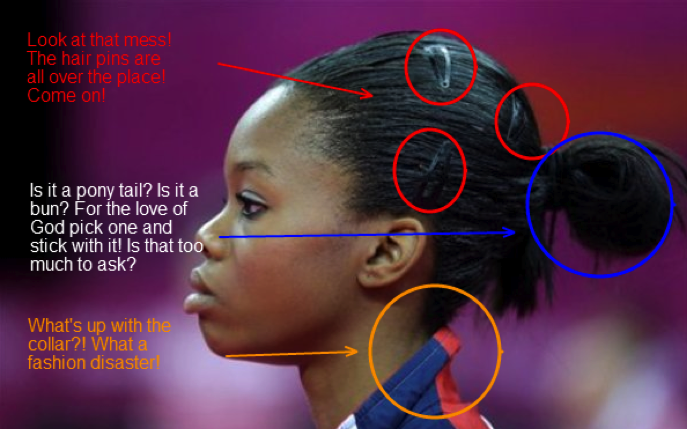 After taking a break from the sport, Gabby returned to elite in 2015, placing second to Simone Biles at the World Championships that year; she later earned a spot on the Olympic Team. One of the few American athletes to ever compete in two Olympics, Gabby also became only the second reigning Olympic All-Around Champion to return to her second Olympic Games (the first being Nadia Comaneci) and the first American (and currently only) gymnast to do so. Placing third in the world, Gabby was unfortunately unable to compete in the all-around final as only two athletes per country can qualify. She also suffered an onslaught of racist and sexist backlash during these Games, as she was accused of not being patriotic enough, smiling enough, or providing enough support to her teammates. I wrote about her unfair treatment here.
Gabby performed one of the most beautiful and intricate bar routines in 2016:
Kyla Ross:
Kyla "Boss" Ross is one of the most successful gymnasts in elite and NCAA history. Born in Hawaii (her mom is Filipino, German, and Puerto Rican, while her did is of African American and Japanese descent), Kyla was a member of the National Team from 2009 to 2016. She earned a spot on the 2012 Olympic Team and competed for the US in the Team Final on uneven bars and balance beam.
Here is Kyla on beam, competing like a badass in her first big international competition:
Following the London Games, Kyla continued to compete as an elite, earning three silvers in the 2013 World Championships (all-around, bars, beam) and a bronze in 2014 (all-around); this is the beginning of the Simone Biles reign and even with her much lower difficulty, Kyla was able to consistently remain one of the top gymnasts in the world. Due a number of factors, including her height–gymnasts are not allowed to raise the height of the uneven bars at the elite level, making the event increasingly difficult for a 5 ft 7 in athlete–Kyle retired from elite and focused on NCAA in 2016. During her time at UCLA, she earned the fourth most perfect 10s in NCAA history, She is only the second NCAA gymnast to earn two "Gym Slams", a perfect ten on all four events. Unfortunately her NCAA career was cut short in 2020, when her senior year ended early due to Covid-19. With NCAA titles on all four events, Kyla is one of the most successful athletes to compete in both elite and NCAA.
Here are all of Kyla's perfect routines:
Kyla is the first female gymnast to win a World, Olympic, and NCAA championship title.
Lloiminicia Hall:
Known for her incredible and unique floor chorography, Lloimincia Hall competed as a level 10 gymnast before starting her career at LSU in 2011. She became one of the most accomplished floor workers in the school's history including four straight SEC titles on the event and seven perfect 10s. Truly one of the most creative and engaging performers in NCAA history.
Here is Lloiminicia's amazing routine where she earned a perfect 10:
Just bringing the crowd to their feet in 2015:
Sophina DeJesus:
Born to an African American mom and Puerto Rican dad, Sophina DeJesus is known for one of the first viral floor routines. Prior to her NCAA career, Sophina was named to the Junior National Team in 2009 and later competed elite before deciding to start for UCLA in 2013. As a Bruin, Sophina is a three-time All-American on the uneven bars and had one of the most popular NCAA floor routines in 2016.
Hallie Mossett:
Hallie Mosseett is one of my favorite NCAA gymnasts of all time. A member of the National Team in 2008 and 2011, she started competing for UCLA in 2014. As a Bruin, Hallie was known for her beam and floor routines, including Beyonce-inspired choreography in 2017:
AJ Jackson:
Before her career at the University of Oklahoma, AJ Jackson was the Junior Olympic National Champion on vault three years in a row, and earned a bronze in the all-around, bars and floor. Known for her vault and floor, AJ earned the Big 12 Event Specialist of the Year in 2015, the first and only freshman to win the title. Throughout her career, AJ continued to win titles on her specialty events and finished as a six-time All-American and two-time Big 12 Champion on vault.
Here is AJ competing floor, with her signature "chalk blow" at the beginning of her routine (this was later banned by the NCAA, although crowds at home competitions would continue imitating her iconic choreography):
Kennedi Edney:
One of the most successful gymnasts in LSU history, Kennedi Edney won a number of Junior Olympic Level 10 National Championships including beam (2013), all-around (2014, 2015), vault (2015), and floor (2015). In 2017, she became the first freshman in LSU history to win multiple national championships and ended her career with the fifth highest number of national titles. She is an 18-time All-American (fourth in school history) and she won vault in both 2017 and 2019, along with silvers with her team.
Here she is on vault at the 2019 National Championships:
Nia Dennis:
Niaaaaaaaa! One of my favorites competing today, Nia is known for her big personality and unique floor choreography. As an elite gymnast she was a member of the National Team from 2012-2016. After turning senior in 2015, Nia finished ninth at the 2015 National Championships and in 2016, was chosen to compete at the Stuttgart World Cup. Early that year however, she tore her Achilles and was forced to withdraw from the competition. Despite this potentially career-ending injury, Nia was able to compete on the uneven bars at the National Championships later in the year, although she was unable to move forward to the Olympic Trials.
After retiring from elite, Nia began her NCAA career with the UCLA Bruins. Currently a senior, Nia won gold with her team at the PAC-12 Championships (2018, 2019), a gold at the 2018 National Championships, and silver in 2019 (team).
Here is Nia's incredible (and now viral) 2021 floor routine:
Margzetta Frazier:
A National Team member from 2017-2018, Margzetta "Marz" Frazier won a silver at the 2018 Birmingham World Cup before committing to competing for the UCLA Bruins later that year. At the request of National Team Coordinator Tom Forster, who felt the team needed her on the elite squad for that season, Marz un-retired and competed at the National Championships in 2018, accompanied by her coaches from UCLA. Limited to mostly bars and floor for the Bruins in 2018, Marz helped her team earn a bronze at the NCAA National Championships.
Here is Marz's "vogue" routine from 2019:
Trinity Thomas:
Trinity Thomas is one of the few gymnasts in US history that competes in both the NCAA and at the elite level simultaneously. Currently competing for the University of Florida AND making a run for the 2021 Olympics, Trinity is an incredibly talented athlete with great power and gorgeous form. The ability to compete under two different Code of Points in addition to full college classes is impressive and insanely difficult; she is the only gymnast currently competing both today.
Check out the height on this first pass:
A fou-r time member of the National Team, Trinity won a silver in the all-around at the 2018 Tokyo World Cup before going on to win vault in the 2019 SEC Championships. Hard to pick just one event for Trin, so here she is earning an incredible 39.9 (highest she can have is 40.0) in the all-around:
Simone Biles:
Simone Biles is the greatest gymnast of all time and one of the best of any sport in history. I'm ending with Simone because there is just so much to say about her incredible skill and form; she has absolutely revolutionized the sport. With 30 Olympic and World Championship medals, Simone has more World Championship medals than any other athlete, along with the most golds and most individual all-around titles. Unbeaten in the all-around since 2013, Simone can essentially fall a number of times and still win a competition; she demonstrated this in 2018 as she won her title while suffering from kidney stones (she still managed to compete a new skill and one of the hardest vaults in history).
Here are Simone's original skills:
In her first Olympic Games Simone won the all-around, vault, and floor finals, a bronze on beam, and a gold with her team. Here is her incredible all-around performance:
Even Simone hasn't been immune to racist comments in the sport. During her first world championships–the first Black woman to win the all-around title–Italian gymnast Carlotta Ferlito alleged in a racist comment that Simone's wins were related only to her skin color: "I told Vanny (Ferrari) that next time we should also paint our skin black, so then we could win too". While she later apologized after her statement received a ton of criticism, her federation doubled down on the racism: "Carlotta was referring to a trend in gymnastics at this moment, which is going towards a technique that opens up new chances to athletes of color (well-known for power) while penalizing the more artistic Eastern European style that allowed Russians and Romanians to dominate the sport for years. Why aren't there blacks in swimming? Because the sport doesn't suit their physical characteristics. Is gymnastics becoming the same thing, to the point of wanting to be colored?" Just, ugh. In 2013.
Simone responded in 2020:
"Other than that, it happens every day, and I feel like every Black athlete or colored athlete can say that they've experienced it through their career. But you just have to keep going for those little ones looking up to us. It doesn't matter what you look like. You can strive for greatness, and you can be great."

Roscher, Liz. 2020. "Simone Biles Opens Up About her First Brush with Racism in Gymnastics." Yahoo Sports. Available here.
In addiition to her amazing athleticism, Simone has advocated for survivors of sexual assault and held USAG responsible for their role in allowing predatory behavior to thrive in the sport. She has spoken out against the continued use of Karolyi Ranch as the National Training Center (later closed), the CEO of USA Gymnastics, and protecting athletes.
Simone has said that she will retire after her second Olympics, so enjoy watching the GOAT compete while you can.
Here is Simone competing at the 2019 World Championships:
❤ ❤
How can you advocate for Black gymnasts? Be an ally and call out racist comments if you hear them in the gym, reject commentary that prefers "the European look", and advocate for NCAA programs at HBCU colleges. There are currently zero in the United States!
Currently:
Reading: His Only Wife (Peace Adzo Medie)
Listening: Ok Computer (Radiohead)
Watching; The Americans Season 1 (Netflix)