Welcome to the inaugural Queens You Should Know post! This is where I'll discuss a woman you SHOULD know but for patriarchy reasons, maybe haven't heard of yet.
I first learned of Octavia E. Butler in 2011 when one of her novels, Kindred, was assigned in my Political Science capstone. My professor studied dystopian fiction and the course, my final Political Science class of undergrad, was centered around the intersection of politics and literature. Kindred tells the story of a woman who travels back in time to the plantation owned by her white slavemaster ancestors. The book is great and I highly recommend reading, especially for young adults.
Butler herself was an amazing woman and an absolute genius; she's the only science fiction writer of any gender or color to be awarded the MacArthur Fellowship, literally known as the "genius grant". The "grand dame" of the genre, Butler inspired countless writers of color through her work. Her stories center around a strong female lead struggling to overcome the world around her, very much a reflection of Butler's own life.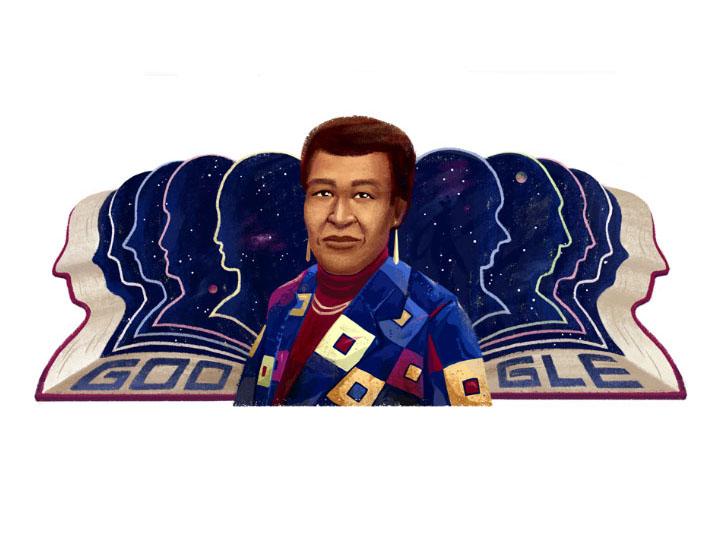 "I began writing about power because I had so little," Butler notes in The Science Fiction of Octavia Butler by Carolyn Davidson. Born July 22, 1947 in Pasadena, California, Butler's parents were a housemaid and shoeshine man. Her father passed away when she was young and as a result, Butler was raised by her mother and a strict Baptist grandmother. Both women greatly influenced how Butler saw the world: she grew up learning stories of the blatant racism shown to her mother by her employers.
As a young girl, Butler described herself at the time as "ugly and stupid, clumsy, and socially hopeless" (which honestly haven't we all felt that way at least once in our lives?)  and grew to love reading and writing because of her shyness and dyslexia. Spending most of her time at the local Pasadena library (a woman after my own heart), Butler decided she wanted to become a writer. This choice was met with harsh criticism, not just from society–but from her own family as well. Her aunt told a young Butler: "Honey, Negroes can't be writers" a reflection of generations of structural racism and segregation experienced by women of color.
Butler could not be deterred from pursuing her dream of writing. While many science fiction authors use the genre as an escape from reality, Butler instead wrote "as a pointed reflection of the most minute and magnified experiences that frame and determine the lives of those who live in black skin." She attended Pasadena Community College, enrolled in writing courses at UCLA, and participated in numerous workshops before selling her first story, "Crossover" in 1971. Harlan Ellison, a famed author at the time, purchased Butler's stories for two anthologies.
However, Butler's success was not immediate. She worked temporary jobs that allowed her more free time to write. As she grew older and more experienced, Butler became increasingly irritated at the lack of female representation noting in "Octavia E. Butler: Telling My Stories":
"Why aren't there more sci-fi black writers? There aren't because there aren't. What we don't see, we assume can't be. What a destructive assumption."
Finally, Butler was able to write full-time following the publication of Patternmaster (1976) and the prequels to the novel, Mind of My Mind (1977), Survivor (1978), Wild Seed (1980), and Clay's Ark (1984). Kindred, the novel I read in my Political Science capstone, was her first mainstream success. Inspired by comments made by a classmate regarding the history of subservience of black ancestors to white people, Butler hoped Kindred would tell the story of a "silent but courageous survival".
In 1984 and 1985 Butler won the Hugo Award for her short stories, along with the Locus Award and the Science Fiction Chronicle Reader Award for Best Novelette. She then published the Xenogenesis trilogy: Dawn (1987), Adulthood Rites (1988), and Imago (1989). The Parable novels were published in 1993 (Parable of the Sower) and 1998 (Parable of the Talents). The story of a girl escaping a society torn apart due to climate change, shit governance, and wealth inequality, the Parable novels "effectively cemented Butler's place in the upper echelons of science fiction." I read Parable of the Sower this summer (thank you Colleen!) and it truly is an amazing story.
In Parable of the Sower, again Butler lets us all know that we are not alone in our sometimes negative feelings about ourselves; she describes herself in the author section as:
"Who am I? I am a forty-seven-year-old writer who can remember being a ten-year-old writer and who expects someday to be an eighty-year-old writer. I am also comfortably asocial — a hermit.… A pessimist if I'm not careful, a feminist, a Black, a former Baptist, an oil-and-water combination of ambition, laziness, insecurity, certainty, and drive."
While Butler hoped to continue the Parable series with four sequels, she found the research too depressing to finish. In 2005 she published her final novel Fledging, a work that combined Butler's unique sci-fi with vampire lore.
Butler used her wealth not only to help others but also, and for probably her most radical resolution, to do what is right. In "Break in Case of Emergency: Octavia E. Butler's Legacy" Gary Dauphin notes:
"that resolution is not just in her framing of personal wealth and fame as means to ameliorative largess — 'I will send poor black youngster to Clarion or other writer's workshop. I will help poor black youngsters broaden their horizons. I will help poor black youngsters go to college.' — but in Butler's daily commitment to the details of her life."
In 2006 Octavia E. Butler passed away at the very young age of 59 in her Washington home. Her novels and simple passion for doing what is right continues to inspire writers and performers today. While "doing what is right" may be simple in words, it is not always easy in practice. For Butler, growing up in a segregated America with little representation of women, especially women of color, she dedicated her life to combat structural racism and show that yes, we are here and have the right to occupy space too.
Embrace your inner Octavia and support your local library, do what is right, and be your best self, even if that means embracing all your qualities that may annoy you (just like Octavia did). You can learn more about Octavia and her work online and at her's estate's display at the Huntington Library.
Sources:
Brown, Mike. 2018. "Octavia E. Butler: How Science-Fiction Author Battled Racism in Her Works." Inverse. Available here.
Dauphin, Gary. 2017. "Break in Case of Emergency: Octavia E. Butler's Legacy." KCET Online. Available here.
Ngangura, Tari. 2018. "Octavia Butler and America as only Black Women See it." SyFy Wire. Available here.
Sommerlad, Joe. 2018. "Octavia E. Butler: Who was the Black Science Fiction Writer who Overcame Prejudice and Poverty?" The Independent. Available here.
Vonn, Kodi. 2018. "The Forgotten Genius of Sci-Fi & Feminist Author, Octavia E. Butler." Medium. Available here.