This is less of a "Queen You Should Know" and more of a "Queen You Already Know but Need To Know More About." While you've probably seen Josephine Baker's performances (or still photos of them), the story of her early life, work as a spy during WWII, and pursuit to end discrimination, is less well known than her famous nearly-naked banana skirt dance in 1926.
The truth is, we can't talk about her enough.
Josephine's humor and immense dancing talent made her a famous in not only Paris, but across the world. Even as a global star, she was often denied equal treatment in the United States. During a time when segregation ruled America, the iconic WWII spy was told she couldn't use the same facilities, stay at the same hotels, or eat at the same restaurants as her white counterparts.
Why Josephine? I first read about her story a few months ago when I received Josephine Baker's Last Dance as a part of my Call Number book subscription and last week I made sure to visit her (small) memorial plaque in Paris. This June, Josephine would have turned 113 years old. Throughout her life she had relationships with both men and women; I think it's fitting to highlight a bisexual woman during Pride month.
Known as the "Black Venus" Freda Josephine McDonald was born in St. Louis to Elvira McDonald, an adopted daughter of African and Native American slave descendants. Josephine was exposed to performing early; she was brought on stage with her mother during the finales of her family's song and dance act. She was hooked to music and dancing from a young age as her neighborhood included many musical influences including Booker T. Washington.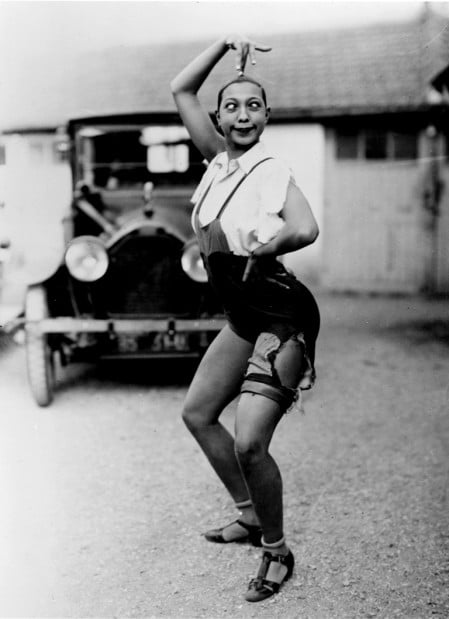 Josephine grew up extremely poor and her family struggled to make ends meet. By age 8, she was working as a live-in servant for wealthy white families. While working for the first family that employed her, she was severely burned by the woman of the house as punishment for a mistake made in the kitchen; Josephine was also sexually assaulted while working for a different family. At the age of 12, she dropped out of school and worked as a waitress and street dancer. The relationship with her mother deteriorated, and by age 13, Josephine began living on the streets of St. Louis. She married a man named Willie Wells under pressure from her parents and the couple divorced less than a year later.
Following her divorce, Josephine began working with a street performance group, the Jones Family Band. Known for her creative dancing style and humor, she began earning larger roles within their shows. Not the "typical" dancer, Josephine relied on her comedic abilities and unique choreography. At age 15, she married Willie Baker and also found success as her performance group began booking shows in New York City. Josephine took Willie's last name even after their marriage ended. Her career began to take off as she performed in venues as a part of the Harlem Renaissance ad during this time she also had a relationship with Clara Smith, a Blues singer.
In 1925, her dancing style and blackface "comedy" gave Josephine opportunities abroad; she moved to Paris at the age of 19 where she became an instant success through her performances. During this time, the French were becoming more enamored with black culture–well, their idea of "black culture"–and Josephine was able to manipulate these perceptions into creating her own image. Cast in an all Black dance troupe, La Revue Nẻgre, Josephine's performance in essentially only a banana skirt on one of the largest stages propelled her to stardom:
"In an article on the 110th anniversary of her birth, Vogue described how her legendary 'danse sauvage', or 'savage dance' 'radically redefined notions of race and gender through style and performance in a way that continues to echo throughout fashion and music today, from Prada to Beyoncé.' Her playful onstage demeanor and approach to race, gender, and sexuality through performance earned her the acclaim of intellectuals and artists such as Pablo Picasso, Frida Kahlo, and Ernest Hemingway, who described her as 'the most sensational woman anybody ever saw'."

Norman, Dominique. 2018. "Black Excellence: The Ever Legendary Josephine Baker." V Magazine.
By 1930, Josephine was the most photographed woman in the world and most successful American entertainer working in France. Known for her unique style, dance, and humor, Josephine had finally found the home abroad that had been denied to her as a child growing up during the Jim Crow era of the American south. In 1936, she returned to the US to star in the Broadway revival of Ziegfeld Follies but the show was met with mixed reviews and Josephine was attacked personally (Time Magazine called her a "negro wench"). After attempting her open her own club but met with continued discrimination, she left again for Paris in 1937, where she gave up her American citizenship, became a legal citizen of France, and married a French industrialist named Jean Lion.
While Josephine returned to France heartbroken by the racism she experienced in the United States, she was determined to continue building her career in France. As WWII began to engulf Europe, Josephine supported the French through her performances, opening a refugee center, and becoming a spy for the resistance. In 1939 she was recruited by French military intelligence, the Deuxième Bureau, to collect information on enemy military troops. At a great expense to her own personal safety, Josephine used her fame and charisma to successfully gather information for the resistance from high ranking Italian, German, and and Japanese officers. She often used sheet music embossed with invisible ink or carried messages in her underwear to communicate this intelligence back to allied forces. During this time, Josephine also met and began a relationship with Mexican artist and icon Frida Kahlo.
In addition to her work as a spy, Josephine traveled Europe and North Africa to entertain troops. In 1941, while performing and also passing on information to British and American forces, Josephine's health deteriorated; she suffered a miscarriage that resulted in an emergency hysterectomy, which then led to severe infection and sepsis. Still, Josephine continued her work as she recovered.
Following the war, Josephine received a number of accolades: Croix de guerre, the Rosette de la Résistance and was made a Chevalier of the Légion d'Honneur by General Charles de Gaulle.
As the Civil Rights Movement gained traction in the United States, Josephine became one of the most famous supporters for equal rights. She denied performing for segregated audiences, refused to support segregated businesses, and wrote articles about the injustices suffered by African Americans in United States. She was threatened by the Ku Klux Klan and other racist organizations; she publicly stated that she would not be deterred by their violence. Josephine's voice, which had brought her fame in her adopted France, was now being heard as one of the loudest supporters of equal rights in the United States.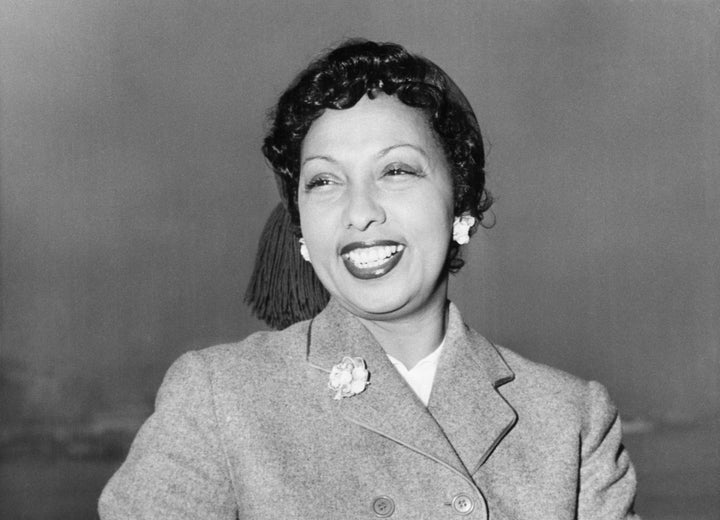 In 1963, Josephine was the only official female speaker at Rev. King's March on Washington. Many were concerned that her history of risque performances and allegiance to France would hurt the movement, but Josephine gave a powerful speech:
"I have walked into the palaces of kings and queens and into the houses of presidents. And much more. But I could not walk into a hotel in America and get a cup of coffee, and that made me mad. And when I get mad, you know that I open my big mouth. And then look out, 'cause when Josephine opens her mouth, they hear it all over the world. . . .

"I am not a young woman now, friends. My life is behind me. There is not too much fire burning inside me. And before it goes out, I want you to use what is left to light the fire in you."

Goldstein, Jessica. 2011. "March on Washington had one Female Speaker: Josephine Baker." The Washington Post.
During her time working on civil rights in the United States, Josephine began adopting children from different religions and ethnicities to form the family she nicknamed "the Rainbow Tribe". Her goal was to prove that children could become "brothers" regardless of their history or background; Josephine would eventually adopt twelve children.
Following Dr. King's assassination, his widow, Coretta Scott King, asked Josephine to take his place as the Leader of the Civil Rights Movement; she declined the offer out of protection of her children, who she felt were too young to lose their mother.
Josephine returned to France and continued to perform across Europe. She starred in a biographical show of her life and fifty years as a performer, Joséphine à Bobino 1975, in Paris. Four days after the production's opening night, she suffered a cerebral hemorrhage and passed away at the age of 68. Josephine is the only American-born woman in to receive full French military honors; over 20,000 people paid their respects to her funeral procession as it passed through the streets of Paris.
Many iconic singers, including Rihanna, Diana Ross, and Beyonce, pay homage to Josephine through their own performances:
Josephine Baker is remembered not only for sense of style, unique performances, and activism, but also for always embracing her own identity. She helped defeat the Nazis in Europe and combated American injustices while always being herself. Truly a queen.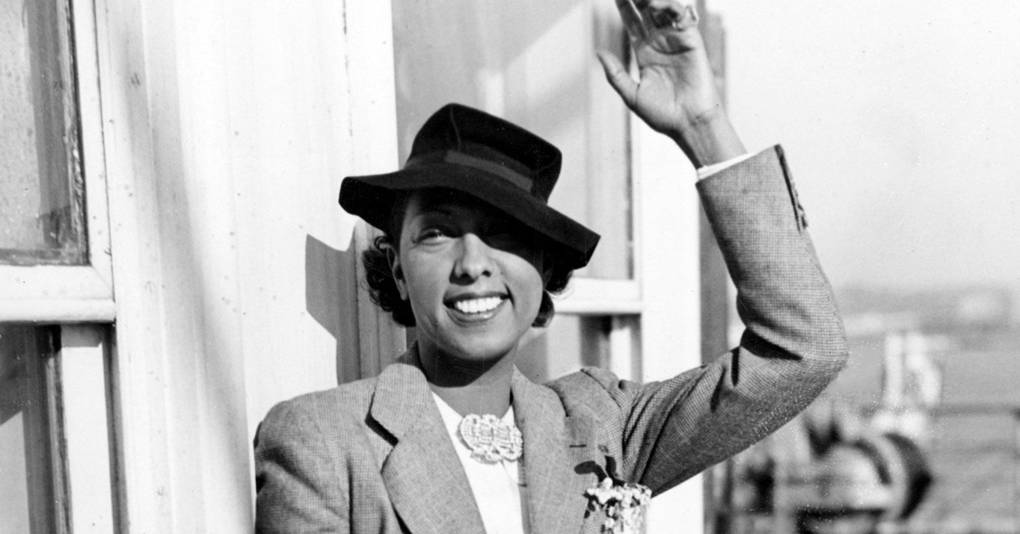 Sources:
Goldstein, Jessica. 2011. "March on Washington had one Female Speaker: Josephine Baker." The Washington Post.
Jerkins, Morgan. 2016. "90 Years Later, the Radical Power of Josephine Baker's Banana Skirt." Vogue Magazine.
Jones, Sherry. 2018. Josephine Baker's Last Dance. Gallery Books: New York.
Matthews, Dasha. 2018. "The Activism of Josephine Baker." The University of Kansas City.
Norman, Dominique. 2018. "Black Excellence: The Ever Legendary Josephine Baker." V Magazine.
Reading: As Lie is to Grin (Simeon Marsalis)
Watching: The Office (NBC)