What a year for television shows! I've always struggled with committing to an entire season, but this year I was able to watch a ton of great shows, both new and returning.
It was also a great year for television actresses: Regina King, Catherine O'Hara, Zendaya, Toni Collette, Elisabeth Moss, and the cast of Big Little Lies.
This was a difficult list to narrow down, so I wanted to include a couple of of other shows I loved this year:
Mindhunter continues to be amazing; I'm glad the show introduced more people to the Atlanta child murders and the fact that the cases remain unsolved.
I finally got on board with Stranger Things and fully love the series, so much so that Chris and I dressed up as Steve and Robin for Halloween.
How can you not love the second season of Big Little Lies? So dramatic, so over the top, so much love for Meryl Streep's fake teeth, and this iconic scene: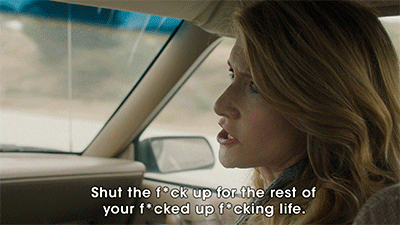 Another year of The Handmaid's Tale and another year of frustration. The show can be soooooo good and this season was full of amazing scenes and social commentary–the Natalie birth episode still keeping me up at night, why aren't we talking more about this!?–but the show overall can be incredibly slow. I'm all for a plot that takes a while to get there, but most of the episodes I thought were way too much filler and not enough substance. Maybe this is anxiety from the last season of Game of Thrones?
Admittedly, Euphoria is A LOT. There's a ton of things happening in this show, to the point where it can make the viewer feel overwhelmed with allthethings. I'd argue though, that's kind of the point. At the center of the show is Rue (played to perfection by Zendaya), a high school student returning home from an overdose and stint in rehab. She still uses, struggling to overcome her father's death, and striving to feel loved, which she believes she's found in her new best friend, Jules (a trans woman wonderfully played by actual trans woman Hunter Shafer). A great cast, awesome makeup, killer soundtrack, and one of my favorite shows of the year.
Here are my favorite shows of 2019:
Comedies:
The Good Place (Season 4):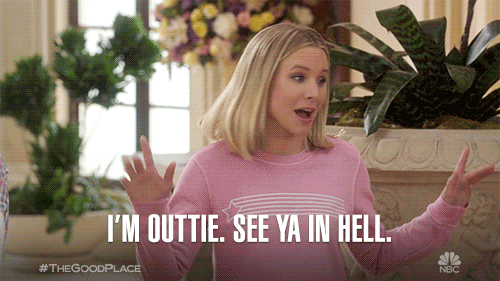 Oh, The Good Place. TV's most positive show just ended THIS WEEK and I'm still recovering from the finale. I binged all three seasons in time to watch the fourth in real-time. Shur's take on morality and the qualifications to what make a "good" human (and therefore entry into "the good place") got a little old throughout the seasons, but I did love how everything came together in the last episodes. Similar to Handmaid's Tale, there's only so many plot-twists that can happen when your main protagonists are limited on where they can go (and the storyline is rooted in the idea of "place") but the last season beautifully wrapped everything up. Call it comforting or sentimental, but it's nice to have a series about basic human morality show us the complicated story of what it means to be human.
Can we also just talk about how great Maya Rudolph is as the Judge? And how truly awesome Marc Evan Jackson is as Shawn?
Succession (Season 2):
SUCCESSION. Do yourself a favor and binge this show if you haven't seen it yet. The writing is so smart, the characters incredibly witty, and the plot just cruises (pun intended) through the season's ten episodes of who may succeed patriarch Logan Roy. The finale, This is Not for Tears, is one of the most brilliant episodes of television I watched this year. A show about terrible people being awful, this final episode was less about who would inherit the big job and more on who would become the family's sacrificial lamb.
All the performances are clutch and wonderfully acted but for me, Tom (Matthew Macfadyen), Roman (Kieran Cuilkin), and Cousin Greg (Nicholas Braun) are my absolute favorites. I almost fell over when Tom stole chicken from Roy's plate to prove he couldn't be pushed around any longer.
The Righteous Gemstones (HBO)
HBO's other family-centric comedy this year, The Righteous Gemstones, written by and starring Danny McBride, was also one of my favorite shows of this year. Less clever than Succession, Gemstones has a slow couple of first episodes, but the last few of the season were great. I've missed Danny McBride's writing and acting so I'm maybe being a little sentimental here, but there's just something about watching an outrageously ridiculous comedy each week.
It's hard to pick favorites, but for me, the scenes with Judy (Edi Patterson) and Baby Billy (Walton Goggins) absolutely MADE this show.
The End of the F***ing World (Season 2):
The End of the F***ing World's season one finale was pretty perfect. As great as that ending was, I really loved season two. Yes, there's a lot of redundancy in terms of rehashing what happened to Alyssa and James, but I felt that the creators did a good job of bringing the characters beyond the Romeo and Juliet-esque ending of season one. Instead, Alyssa and James are figuring out how to move forward from trauma and abuse, admittedly less dramatic but I'd argue, more human: "It was a fitting end," James says in a voiceover, "A doomed love story. A perfect tragedy. And then I didn't die."
An arguable (very) dark comedy, the story of James, Alyssa, and now Bonnie, a new character linked to the couple, was one of my favorite shows of the year. The awkward and endearing couple show that you can work through trauma in whatever way you have to in order to move past it.
Schitt's Creek (Season 5):
Schitt's Creek is IT. There isn't enough space or time to talk about how great this show is: the writing, the acting, the comedic timing etc. etc. The sheer joy of Schitt's Creek draws you in and unlike other shows tied to place (I'm looking at you Handmaid's Tale), does a good job of building around that common theme by giving space for the characters to either grow–David and Alexis–or not (MOIRA)–in a genuine way.
This cast is amazing. Dan Levy (David) and Annie Murphy (Alexis) are perfect. But the relationship between Eugene Levy (Johnny) and Catherine O'Hara (Moira) is my favorite part of the show. As always, Eugene Levy is endearing in a way only he can be while O'Hara proves she has always been the queen in how she portrays the eccentric Moira (and her wigs).
Can we just talk about Stevie's performance (played by Emily Hampshire) and how this scene is absolute perfection? Maybe of any show of all time?!
Dramas:
Years and Years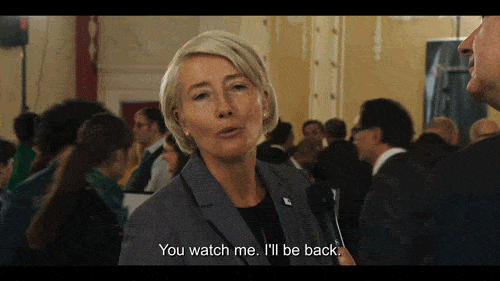 Years and Years is criminally underrated. Emma Thompson, as always, is incredible as politician Vivienne Rock and Jessica Hynes, a favorite from her days on Spaced (1999!), has one of the best performances of the year in her role as a political activist.
The BBC show tells the story of one Manchester family over the fifteen years following an event in 2019. Immigration, technology, and love are just a few of the overarching themes of a show that follows the story of each character as Britain experiences both political and economic instability. Muriel, the matriarch of the family says: "It's all your fault… Every single thing that's gone wrong, it's your fault. Every single one of us." Hynes's performance in the final episode is heartbreaking and overall I loved this six episode show.
Watchmen: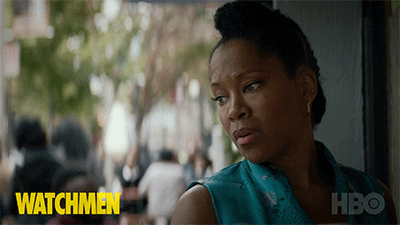 Based off of Alan Moore's graphic novel, the HBO adaption Watchmen was one of the most bizarre, intense, and interesting shows of 2019. Starring Regina King–who is absolutely perfect as a daytime baker and vigilante by night–the story centers around Tulsa, Oklahoma and how the 1921 terrorism of "Black Wall Street" resonates in modern relationships and policing. As in the early 1900s, modern intersections of race and power drive the narrative of the show's packed nine episodes. The storytelling of the show is amazing–episodes are jumping between time periods, places, and perspectives, but somehow manages to tie everything together in a satisfying, albeit for me, heartbreaking way.
Regina King (Angela) as the ass kicking superhero and police officer, struggling throughout the series to understand the truth of her family's past. King notes that "so much of this country was built by black people, but yet in a lot of regards, we're orphans because we don't know where we've come from. There's a metaphor in there for the history of the real America."
Unbelievable:
One of the most heartbreaking aspects of Unbelievable is that the true-crime series is actually true. The story of Marie, a young woman who recants her account of rape after pressure from police, is at the center of the show and gives light on the struggles women face when reporting abuse. After a series of rapes occur in their town, detectives Grace Rasmussen and Karen Duvall (Toni Collette and Merritt Wever, who are great in these roles) begin connecting the pieces showing that a serial rapist has been committing these crimes, including Marie's assault.
At the heart of Unbelievable is the question of who actually gets to be believed. Marie, a low-income young orphan, does everything right when she reports her rape: she consents to medical exams, explains the event multiple times to a number of people, and submits to questioning, and yet is made to believe that she invented the account and is even hit with a false reporting charge. Marie isn't taken seriously but that part isn't unbelievable, right? Here the show demonstrates the inherent problems within an unjust system–who gets to be believed and who is worthy of our time and empathy isn't equal.
Chernobyl:
Chernobyl is easily one of the best five episodes of television this year. From the beginning the series draws you in as the horrifying tale of the Soviet nuclear disaster slowly unfolds. Jared Harris (Valery Legasov) is haunting, wonderful, and is the perfect protagonist to show the costs of attempting to save the world from nuclear ruin–the lives lost, the environment destroyed, and combating a regime intent on keeping such a disaster a secret.
We toured Chernobyl a week before the show premiered on HBO and all I can say is, holy shit.
The show is beautifully shot with such an attention to detail that viewers can forget that this isn't REALLY 1986 Ukraine. I highly recommend listening to the Chernobyl Podcast with show creator Craig Mazin (can we also talk about how Craig Mazin, who is known for The Hangover Part II and III, created Chernobyl?) and NPR's Peter Sagal as they discuss decisions made for the show. Emily Watson, as scientist Ulana Khomyuk, is one of the characters created for the show; she's a combination of a number of scientists that worked to clean up the damage. Her interviews with the first victims of the explosion are absolutely heartbreaking. Much of the show, including the story-line of Vasily and Lyudmilla Ignatenko, was based on the incredible book, Voices of Chernobyl by Svetlana Alexievich, who has endorsed the show.
When They See Us:
Ava DuVernay's When They See Us is one the best shows of all time. While the miniseries was snubbed by the Golden Globes–many of arguments blame how difficult the show is to watch– the fact is that her portrayal of the Central Park Five IS hard to watch, mostly because the story of these teenagers sent to prison for a crime they didn't commit not only happened, but is demonstrating how institutional racism is still happening in America today.
A legal system that allows for the arrest, interrogation, and eventual sentencing of children for a crime they did not commit is unjust. And yet, the power and outrage of When They See Us is not only showing the viewer that these things happened, but continue to happen. Disenfranchisement is seen throughout the show: a lack of money means inadequate legal representation, inability for families to see their children, and the sheer racism of a prosecutor to refuse to believe anyone other than these children of color could commit this crime. The lack of empathy throughout is heartbreaking and shows what happens when those in power see others as less than; Linda Fairstein refers to the kids as "thugs" and "animals" rather than the eighth graders they are.
All four episodes are powerfully written and acted, but the 90 minute finale centering on Korey, who is sentenced to adult prison as a minor, is absolutely brutal. Viewers might not be able to finish watching a show so outrageously unjust and unbelievable, but the point of When They See Is, is that it is.
Currently:
Listening: The Racist Sandwich (Soleil Ho and Zahir Janmohamed)