London has been on my list of must-visit places for nearly as long as I can remember. Now that one of my dear friends is kicking ass as a Producer for BBC World Service, I have all the excuses to visit the UK. I had a blast visiting Haley and checking off all the tourist sites in the city.
Where are we?
Of course it basically rained the entire long weekend I was there, which made walking around definitely an adventure. We took a trip to Windsor Castle that I'll publish next week; there was so much to see (not to mention my first ever Pims) that it definitely needs its own post.
London:
The largest and capital city of both England and the United Kingdom, London sits on the Thames and is known for a million things, but most importantly Monty Python and Harry Potter. With history extending as far back as the Bronze Age–recently archeologists found the remains of a bridge crossing the Thames–London is officially recognized as a settlement in 43 AD during the invasion of the Romans.
My first stop was visiting BBC; now I can say I've been to the headquarters of my two favorite broadcasting companies (I toured NPR in 2011). Also, I'm a nerd.
Let's be real, my biggest reason for visiting was to reenact the "Look kids! Big Ben! Parliament!" scene from European Vacation when Clark is stuck in the roundabout: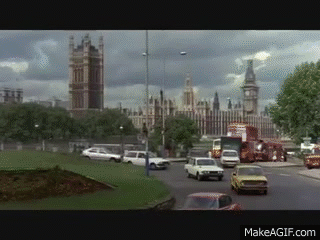 I really wanted a picture of the police in their uniforms due to our obsession with the movie Hot Fuzz. Trying to be sneaky with my camera didn't work (of course as I'm the most obvious person in the world) and the officers posed for a picture for me:
For Harry Potter reasons (and also fear of bridges reasons) I did not walk the Millennium Bridge.
The Tower of London was one of the few sites I actually paid to tour. The fortress is pretty big and well worth the cost; Used as a prison, menagerie, and a palace, the Tower of London has been a prominent part of British history. Unfortunately it was pouring while I was walking the (largely outdoor) grounds so I wasn't able to take many pictures.
Food & Beer
Haley's House:
Known for her egg-making expertise, of course we had to have eggs and toast my first morning in London:
After a rather long (and dance party filled) night she was nice enough to make homemade pizza for dinner the following day.
The Hop Locker:
Located under the Hungerford Bridge, the Hop Locker was an awesome and surprising find after I crossing the park behind the Eye.
The beer-truck had a couple of really great options. I tried Verdant Brewing's Roy, I want a Hilux, an American Pale Ale brewed in Falmouth, England.
Gourmet Burger Kitchen:
I stopped in Gourmet Burger Kitchen to get out of the rain and charge my phone (and let's be honest, truffle cheese fries). I ordered the Californian because I was craving avocado. Pretty good burger, great fries, and a ton of options for the pickiest of eaters.
Bubbledogs:
After a long news day for Haley and my miles in the rain around London, Bubbledogs was the absolute perfect stop for dinner.
Bubbledogs is founded on a simple ideology: gourmet hot dogs and champagne. They have meat and veggie dogs available with a ton of options for toppings (I of course chose macaroni and cheese). Also–TOTS.
Bad Bean Coffee: 
My last brunch in London! We originally wanted to go to another spot for breakfast but the line was ridiculously long and being the impatient, hangry people we are, Haley and I walked across the street to Bad Bean. I'm so glad we did!
Known for their coffee, Bad Bean also specializes in breakfast sandwiches, sides, and a variety of amazing looking treats. We ordered eggs+toast and both were ahhhmazing.
In the famous words of Haley Elaine: "Part of growing up is falling apart."
Reading: Harry Potter and the Prisoner of Azkaban by JK Rowling
Listening: Ash & Ice by The Kills